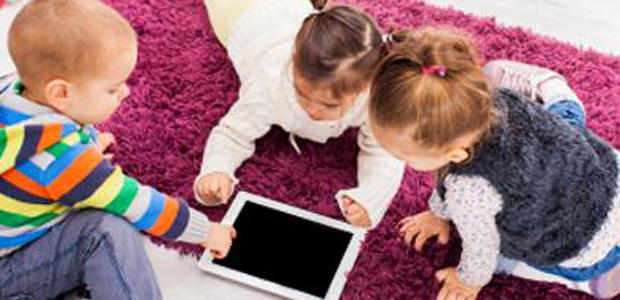 Check out our Top Apps for Preschoolers
App stores can be confusing spaces, we've waded through masses of apps and pulled out ten shiny nuggets of digital joy that you can use with your preschoolers. They are fun, educational and best of all; they're free!
Be the one to introduce your child to the Internet. This could make it easier to share both positive and negative experiences in the future.
If you are letting your child use your tablet or smart phone, it's important to make sure your in app purchases are turned off.
A feature of free apps is that there is a level of advertisements pushed onto the screen, explain to junior family members how to ignore these ads, and also consider agreeing some basic ground rules about the amount of time you are happy for them to spend looking at a screen.
Top Apps for Preschoolers

ColorStudio HD. This is a nice little colouring app. It allows little fingers to easily colour in animated pages, switching between markers, crayons and colouring pencils. Finished masterpieces can be printed or saved.
Platform: iOs

Cambugs. Developed by educational psychologists, Cambugs helps children to master letter sounds, the basic building blocks to fluent reading. This is a great free app that could be used by teachers and parents alike.
Platform: iOs

ABC Cursive. Many schools are encouraging the use of cursive handwriting from junior infants onwards. This app allows children to easily trace the letters of 'joined up' writing. Versions of this are available for free from iTunes and the Google Play store. The interface is clean and crisp and well thought out.
Platform: iOs, Android

Angry Birds. Love it or loathe it, you cannot escape the cluthches of those little angry birdies. Not exactly an educational app, we've let it sneak into this list because it is just such a good game! If you like your Angry Birds a bit sci-fi you can go for the Star Wars version, (the birds are dressed up as Jedi Knights, you have to see it to believe… (These are not the droids you're looking for). Not all the levels are unlocked on the free version.
Platform: iOs, Android

Kids Math Lite. This is a simple and fun maths app. It teaches number recognition as well as simple mathematical tasks. It's friendly interface makes this a winner for your under 6's.
Platform: iOs, Android

rté jr. Recently launched (Spring 2013) the new app from RTÉ brings 3 streams of content together in one app. You can play games, listen to stories and music and also watch rté jr programmes.
Platform: iOs

ABC Letters Lite. Developed by Intellijoy, the same company responsible for 'Kids Math Lite' this colourful easy to use app introduces very young children to letter shapes. Using interactive games, toddlers learn to recognise and become familiar with all the letters in the alphabet.
Platform: iOs, Androis

Cúla Caint. Direct from Galway and the TG4 stable. This nice little app has a lot of Irish vocabulary and introduces Irish terms and words in a nice clear and friendly interface. There is also a nice on screen drawing app which will amuse all those budding artists.
Platform: iOs, Android

Funny Math Car Racing. This is a bit of a novelty, a car racing game and a maths sums game combined. In order to move your car through the race, you need to perform some quick fire calculations, no calculators allowed!
Platform: iOs

Baby DressUp. For the little girl in your world. Now you can dress up your virtual baby, feed her and even enjoy a tea party with friends. If you're tired out after all that, you can send yourself a screen shot of babys latest adventure.
Platform: iOs, Android
If you have any queries regarding apps for preschoolers or if you have found an amazing app for us to add to our list, please do get in touch via
internetsafety@pdst.ie