At what age should I allow my child use social media?
Deciding at what age to allow your child to start using social media is a common dilemma for parents. In this article we look at the different age restrictions on popular social media platforms and offer some advice for parents who are considering allowing their child to set up a profile for the first time.
Age restrictions vary across social media platforms; usually users should be no younger than 13 years old (Facebook, Twitter, Instagram etc.). On Tinders users should be at least 18 years old.
Almost no services use robust age-verification processes. It is very easy to sign-up with a false date of birth. That said, they are pretty quick to delete the accounts of users when they discover they are underage.
Why 13 years old?
The threshold of 13 years is not related to safety concerns but to U.S. privacy laws governing the collection of data about children. In short, they can't do this without parental consent. Getting consent is an administrative headache; most companies don't want the hassle.
In Ireland data protection legislation doesn't specify a particular age, instead it depends on what is called 'informed consent'. This means that if a child understands what their personal information will be used for and who will have access to it, they can give consent themselves. Similarly, children with learning difficulties might not be in position to give 'informed consent' at any age.
Regardless of the data protection legislation in Ireland, most companies stick with the US restriction of 13 years old in their terms and conditions.
What are the age restrictions on popular social networks?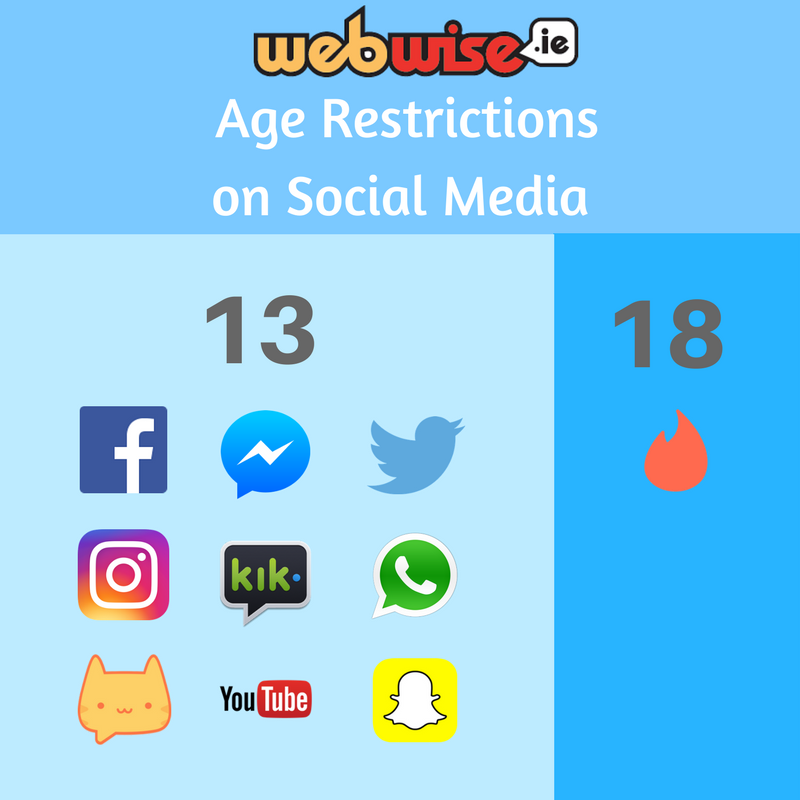 What are the Key Things to Think About?
We know that some parents give permission to their underage-children to join services like Facebook and help them to set up accounts. They see putting in a false date-of-birth in the registration form as a white-lie that is necessary to access a safe-haven from the porn easily found on the rest of the web.
Ultimately, you need to decide if your child is equipped to deal with the interactions that arise from social networking. The pressure to 'fit in' and/or to 'be popular' can be intense. Romance, group dynamics, and bullying can contribute to create choppy waters that even adults find difficult to navigate.
We have a rough rule of thumb. Is your child old enough to go into the city centre by themselves on the bus or train at the weekend? If not, then they probably aren't ready to go on Facebook.
Best Practice for Parents
The best online safety strategy, regardless of the age of the user or the technology involved, is to talk with your children and to engage with their use of the Internet.
Remember, the chances of your child sharing their online experiences with you will be greatly reduced if they think that telling you about a problem will result in them being banned from using the Internet!
Useful Links
Has your child starting secondary school this year? A new school and a new school year is an exciting time for teens, making new friends and catching up with old ones on and off line. Help get their first year off to a great start with these 8 social media tips.
Report an underage child on Facebook: facebook.com/help/report