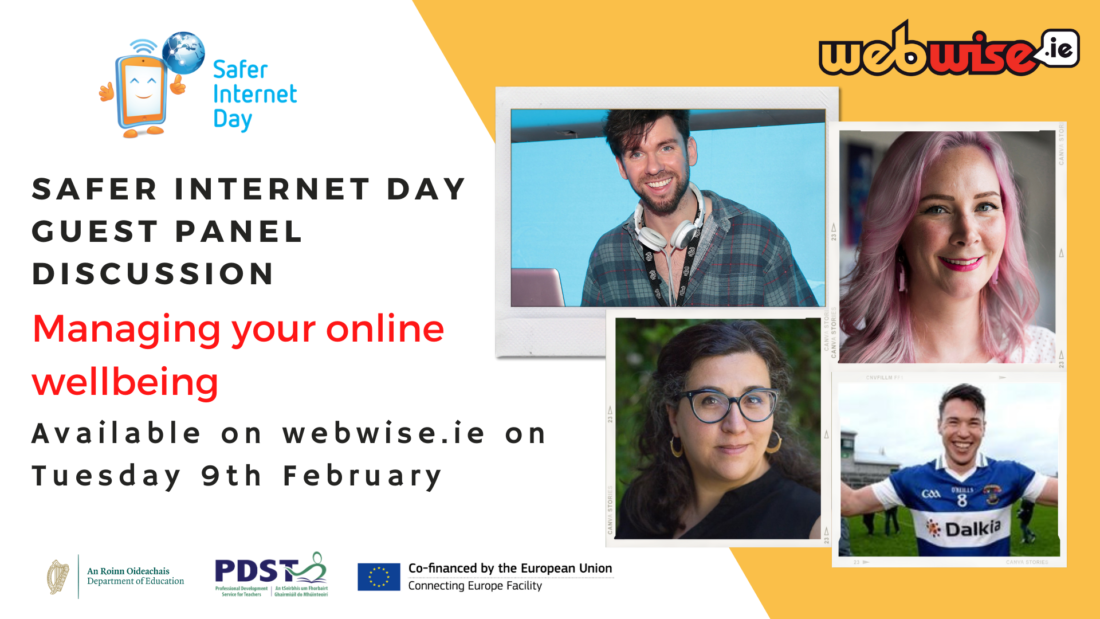 Safer Internet Day Online Wellbeing Guest Panel Discussion
For Safer Internet Day Webwise are delighted to broadcast a short webinar for post-primary students reflecting on the role technology has played in our lives this year and to explore ways to help students manage their online wellbeing. The event will provide an opportunity to hear about the experiences of figures from the world of entertainment, sport, cyberpsychology and the tech industry. Joining the discussion are 2FM's; Eoghan McDermott, Cyberpsychologist; Dr Nicola Fox-Hamilton, Public Policy Lead for Kids and Families at Google; Dr Alicia Blum-Ross, All-Ireland winning Dublin Footballer Eamon Fennell. The discussion is hosted by Webwise Youth Advisory panel member Billie Constantinou.
The guest panel event marked the final webinar of the Webwise Safer Internet day Ambassador Youth Training Programme. In the weeks leading up to this event, 100 students from across Ireland have been engaged in an online peer led training programme. The aim of the training programme is to provide the students with the knowledge, skills and confidence to go back to their own schools/communities and lead an online safety campaign/initiative for Safer Internet Day on the 9th February 2021. This programme is also supported by 35 members of the Webwise Youth Advisory panel, who act as peer mentors to the Ambassadors over the course of the programme. This year the training programme focuses on helping students managing their online wellbeing and the event today allows students to reflect on learnings over the course of the programme and hear from a range of different voices and experiences from entertainment, research, academic and sporting backgrounds.
Safer Internet Day 2021 may look a little different this year because of Covid-19 guidelines but getting involved is easier than ever. Webwise has created a list of remote and socially distanced Safer Internet Day activities that people can use to help to do their bit to create a better online world. Along with ideas for #SID2021, this resource includes templates and presentations that individuals, schools and organisations can tailor to their specific needs.
Webwise send free online safety packs to any school, organisation, club, or community groups taking part in Safer Internet Day. While Safer Internet Day takes place on February 9th, you can decide to highlight SID on any day that suits you – just share your plans with us and we will send out free wristbands for your participants. These can even be used as part of plans to promote online safety later in the year.
Support #SID2021 by encouraging schools, parent groups, organisations, and the wider community to get involved and sign-up!