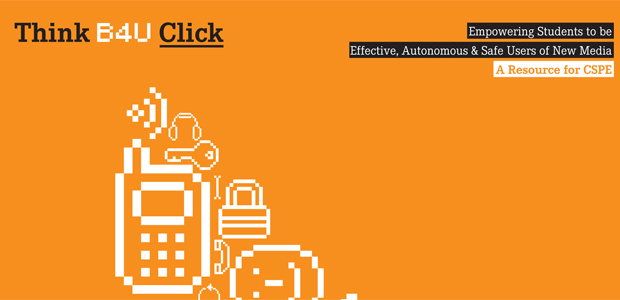 Think B4U Click as Gaeilge
An invaluable resource which helps you teach students the importance of online privacy is now available in Irish.
Think B4U Click shows young people how to protect their private information
Think B4U Click is a vital aid for showing young people the way to protect themselves and their personal information in the digital age.
Developed by the National Centre for Technology in Education and the Irish Council for Civil Liberties with the cooperation of the Second Level Support Service and the Curriculum Development Unit, you can download the Irish version by clicking here.
Termed by some as "Generation Facebook", young people today need to understand privacy in the ever-changing technologically advanced world of instant communications.
Think B4U Click is aimed at second level CSPE students
Think B4U Click, the first educational resource of its kind, is aimed at second level students studying CSPE for the Junior Certificate.
It includes classroom activity sheets exploring the issue of online privacy in the context of online rights and responsibilities.
With its help, students will be well on the road to becoming Webwise as it teaches them that sharing information online on websites like Facebook is public by default.
By studying this resource, young people will explore all the key issues surrounding privacy and will gain a greater understanding of how online information sharing works.
For more,  click here.