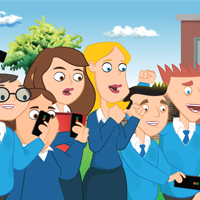 The team at Webwise has put together a series of videos on internet safety addressing a range of topics for both primary and post-primary level. The videos are free to download for you, your school or your organisation. The resource videos can be used to help young people learn all they need to know about using new media in a safe, secure and positive way.
You can also keep up to date with internet safety inside and outside of the classroom with our advice videos for teachers here.
Primary
Vicky's Party
This short animation forms part of the Myselfie Teaching Resource. Vicky's Party addresses the topic of Cyber Bullying, exclusion as a form of bullying and gives pupils a chance to empathise with those affected by it. It will also motivate them to act responsibly and intervene in a positive and safe way.
The Match
Part of the Myselfie Teaching Resource – Lesson 3, How Bullying Feels and How Best to Respond, gives students an opportunity to explore the emotions involved in a cyber bullying situation and to develop strategies for coping effectively.
The Photo
Part of the Myselfie Teaching Resource. Lesson 4: You've been framed, will help the students to reflect on their photo sharing practices. They will examine the characteristics of digital photographs; focusing on what makes them different from traditional photographs.
I Like It
Use the Safer Internet Day rap to promote an anti-bullying message and to help improve comprehension skills. The British Council has developed activities, based on our rap, for teenagers learning English as a foreign language. These interactive matching activities could also be used to improve literacy skills in a primary classroom.
(Irish version available here)
Post-Primary
For Your Eyes Only
For Your Eyes Only addresses the topic of non-consensual image-sharing among teens. The video is part of the Lockers Teaching Resource which includes two corresponding lessons. The video can also be used to lead a class discussion and can be viewed alongside the Just For Fun video (below).
Just For Fun
Part of the Lockers Teaching Resource which includes a corresponding lesson; Just For Fun addresses the topic of non-consensual image sharing. The video can be used alongside For Your Eyes Only (above) or can be viewed as a single case study.
Forever
This short video addresses the topic of sexting and potential consequences. Forever can be used to lead a class discussion or as an additional case study for the Lockers Teaching resource. The video is also supported by a website offering information and support: watchyourspace.ie/forever
UP2US
Music producer & Artist – Bitter Rocc made this short clip encouraging us all to do something to tackle online bullying for the Safer Internet Day. It's part of an anti-cyber bullying campaign called #UP2US. Find out more here: http://www.watchyourspace.ie/
Promise
Bullying won't go away if we do nothing! But it can if you do something. It's up to all of us to create and shape the on-line spaces that we like to spend our time in. Stand-up to cyber bullying by visiting our site watchyourspace.ie and posting your response.