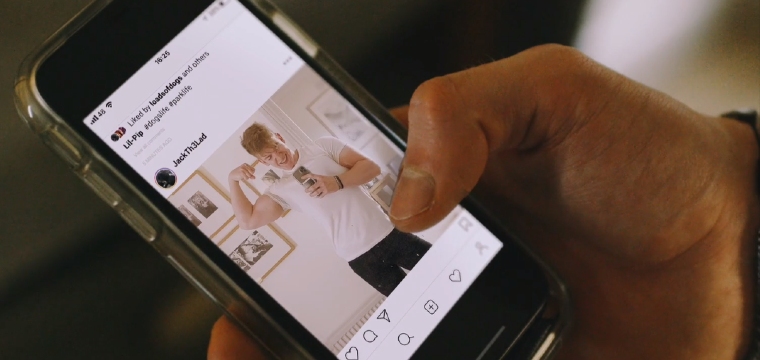 What do teens think?
Developed in conjunction with teenagers from across the country, The Full Picture is a short film exploring how young people use social media to connect and share.
The film highlights the influences and pressures young people face online and encourages them to see the full picture. Social media helps us share our lives but it does not tell the whole story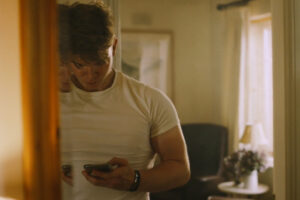 Here is what they had to say about the topic!
I think many people, including me, only post certain aspects of their life as it has become almost a culture to only show the best parts of life to others.
We want to have a certain style or be a certain size and because most successful influencers have these ideals, we feel that to be 'liked' we need to live up these ideals and this can cause a lot of pressure, and in some cases a lot of stress.
Usually whenever I post online, I ask myself, "how will other people react to this" and "how would I react to seeing someone post this". This helps me to get an idea of whether or not it's appropriate to post and I'll usually base my decision off this.
I only post certain things about myself online because I only want to show the best version of myself on social media. I would only post pictures of myself that I think I look good in because at some level, I feel I will get judged by my peers based on what I post. I know that most people my age would feel the same way, and this often leads to people having a not- so-realistic perception of what is going on in each other's lives. Even after I post something online, I often start questioning whether I should have posted it or not in case it affects the way people perceive me.
On social media a lot of things are photo shopped and people are always looking their best so I have definitely felt pressured to look a certain way all the time because that is what's seen as 'the beauty standard' even though a lot of it is filtered or edited. For example when the trend of "vsco girls" went around which was a new style of dressing where girls would wear certain accessories to fit a certain mould, many people changed what they wore. They changed because they wanted to fit in to be admired, to be "cool" or to be "popular"
I am aware of how influenced we can become by what we see online, so I try not to change myself because of something or someone I see on social media. But the reality is, sometimes I feel I might subconsciously change myself slightly to fit in with or be more like people I see online.
I have felt pressure to live up to certain expectations shown online, because I find myself comparing my life to that of others on social media.
Everyone portrays their best or perfect self on social media but that only shares a glimpse into their lives and doesn't show the full picture. In the past, I have experienced a "fear of missing out" that is definitely amplified by seeing what people are doing on social media.
I sometimes feel pressure to post things that make my life seem better and live up to people's expectations on my life.
I would have felt pressure to act a certain way or live up to expectations because of what I see on social media. However, now I know that everyone is different, and we should all just embrace that and be who we are.
I think I only post certain things online for a few reasons, to protect my privacy, because I don't know what others think and I don't want to come across as annoying.
I think our generation has begun to think for ourselves in the past few years and don't mindlessly go by everything we see online. I have changed my opinion on somethings after becoming more educated on them from resources I've come across online.
Sometimes, because I see people my age being very successful and living their best lives online  and briefly wondering why it's not me, but I realise that I still have my youth and can take my time to do whatever it is I want to do. I sometimes feel like I have to try to Iive up to the unrealistic standards, but our age group is very accepting and have realised that we can look however we feel.
Every day on social media you see pictures and posts about people's happy lives which I know isn't all true but I find it does make you feel like you have to live up to their expectations and post happy things about your life like they do.
It's hard when you constantly compare yourself to what you see. I have tried to set a goal to get fitter for sports rather that thinner for Instagram. It's why I try to regulate what accounts I follow so that when I go on Instagram I enjoy scrolling through my feed instead of feeling miserable.
I feel like I've only ever changed myself in a positive way after I saw something online. For example I've seen a lot of influencers post about current events and social injustices and they have said many people are ignorant towards these problems, so I have tried my best to better educate myself on these topics.
I think personally think many of us don't post everything on social media because of privacy and because we don't want others to see the not so glamorous part of life.
I have 100% felt pressured to live up to expectations online. Online influencers create an ideal life and picture of how life should be, leading many of us to believe we have to fulfil such expectations to be accepted and be successful.
I've realised social media is only a part of how we portray ourselves in life, it is not how we live our lives. Essentially it does not shape who we are. Our hobbies and interests help us define what makes us human.
We should portray what is gratifying online, what we are proud of, who we really are. Ask yourself, are you showing the full picture?
Your brain picks up social trends and popular images from online when the hours roll on when sucked into the void I think we all know too well. It's that feeling everyone one craves to feel whole, and that is why we pour over these little things like what's popular other people are living in the public eye today.