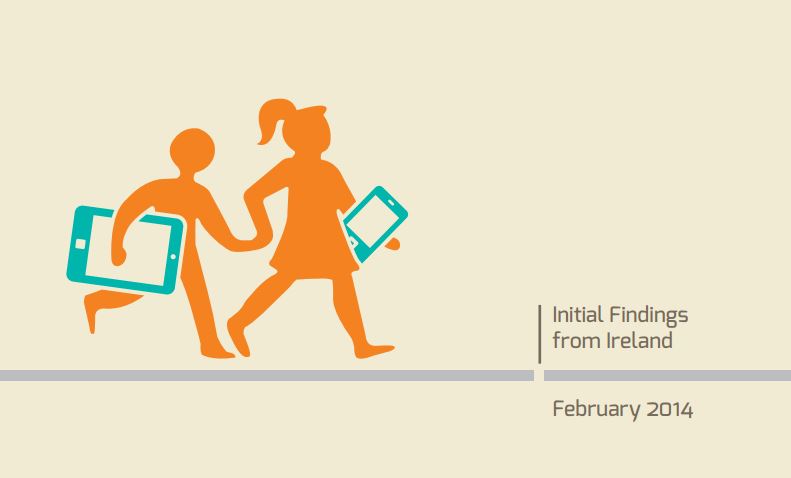 Net Children Go Mobile: latest findings

New Net Children Go Mobile report
A new Net Children Go Mobile research on children's use of the internet in Ireland from Dr. Brian O'Neill and Thuy Dinh (DIT) was released on Safer Internet Day 2014. It builds on previous research from the EU Kids Online Project into children's risks and safety online. For this piece of research, 500 children between the ages of 9 and 16 were interviewed in November and December 2013.
Brian O'Neill, director of the research in Ireland says: "This latest research highlights just how much smartphones, tablets and other mobile devices have transformed young people's use of the internet, making it all the more accessible but also creating new areas of risks such as increased levels of bullying and exposure to potentially harmful content. New strategies may be needed to ensure young people's safety and welfare in a post-desktop internet environment".
Key findings from Net Children Go Mobile
Access and Use
•       Smartphones stand out as the most used device for internet access on a daily basis by 9-16 year olds in all contexts.  Smartphones (35%) followed by laptops (29%) and tablets (27%) are the devices used most to go online.
•       Most internet use is, in fact, still at home. 63% of children report using the internet several times a day or at least once a day at home.  Just under half or 46% of children access the internet from their own bedroom on a daily basis, with 22% saying they do so several times per day.
•       Internet access while on the move – such as on the way to school or when out and about – is still limited.  87% of children say they never or almost never do this. Three quarters of young people rely exclusively on free wifi access to go online using their smartphone.
Activities
•       Entertainment uses (listening to music and watching video clips online) continue to be the most popular online activities for all age groups.
•       The next most popular use of the internet is visiting a social networking site, especially so for teenagers for whom along with listening to music, is the most reported online activity.
•       Instant messaging (e.g., WhatsApp) is used daily by more than a third of 13-16 year olds.
•       9 in 10 of all 15-16 year olds In Ireland have a profile on a social networking site. Notably, just under 40% of 11-12 year olds also have a social networking profile despite the age restriction of 13 for most social networking services. There is a steep rise from age 11-12 to age 13-14 where use of social networking more than doubles.
•       8 out of 10 children who use social networking use Facebook as their main profile.
•       Over one third of all 9-16 year olds (36%) have a profile on a media sharing platform.
[gview file="https://www.webwise.ie/wp-content/uploads/2014/07/Net-Children-Go-Mobile-research.pdf"] Click here to download Net Kids Go Mobile findings