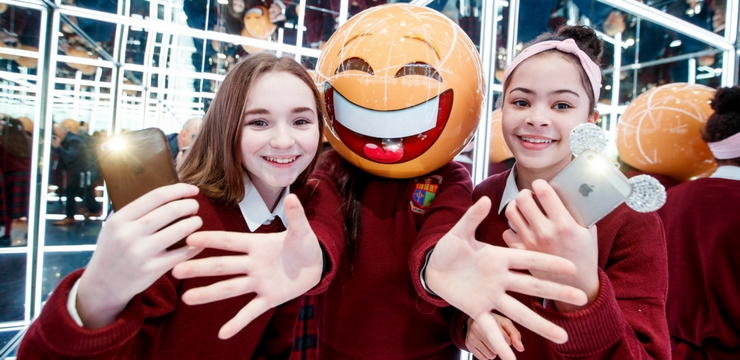 Safer Internet Day 2017 Celebrations
Safer Internet Day was celebrated on February 7th 2017 in Ireland and all over the world. This year has been the biggest and best one yet!
Across Ireland, there were over 420 Safer Internet Day events in schools and organisations involving more than 75,000 children. This year saw a huge range of activities, events and internet safety messages. Here are just a few highlights from Safer Internet Day 2017.
Safer Internet Day Celebrations @ Facebook HQ
For Safer Internet Day 2017, Webwise Ireland hosted a live parenting panel discussion to launch a new online hub for parents and guide. Webwise Parents which will provide parents with easy access to practical advice and information to help address their concerns about the various issues facing their children online. The new hub features expert advice from professionals including John Sharry (Child and Family Psychotherapist) and Colman Noctor (Child and Adolescent Psychotherapist) and offers useful conversation starters and tips on managing internet safety in the home.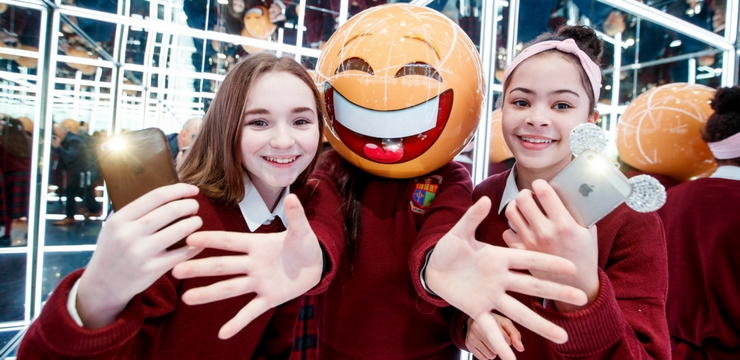 View the full news report from Facebook by news2day here: rte.ie/news2day/
Safer Internet Day Celebrations from across Ireland
For Safer Internet Day 2017 you took part in mannequin challenges, showed us your dabbing skills, rapped about internet safety, created colourful posters, took part in class plays, made videos and so much more! Here's just a small taster of how schools, youth groups and organisations across Ireland marked Safer Internet Day.
@Webwise_Ireland @safeinternetday St Clement's College know it's up to us to ?? #up2us #SaferInternetDay pic.twitter.com/NH5Bd6qypm

— St.Clement's College (@clements_st) February 8, 2017
Safer Internet Day 2017. Rang a cúig learned about how to stay safe online. @Webwise_Ireland #Up2Us #SID2017 pic.twitter.com/ENHEQqLlz4

— St. Catherine's N.S. (@StCatherinesNS) February 7, 2017
A great day in @facebookdublin today for #SID17 with @Webwise_Ireland We advise all students to take care when online! #up2us pic.twitter.com/3hspo2Chhi

— Irish SecondLevel SU (@issu4u) February 7, 2017
Celebrating @safeinternetday in 2nd class by making our positive anti-bullying posters #up2us #sid2017 pic.twitter.com/zNstIwxKxY

— Carrabane NS (@CarrabaneNS) February 7, 2017
What a day! #UP2US #sid2017 @Webwise_Ireland informed all classes, displayed info, texted parents, post on website.Time2 #Dab pic.twitter.com/1wFNWCoSJo

— Eyrecourt Examiner (@Eyrecourt_News) February 7, 2017
Safer internet day 2017! @Webwise_Ireland @PDST_TechinEd #UP2US #SID2017 pic.twitter.com/4PBRSXDcOF

— Crecora N.S. (@Crecora_NS) February 7, 2017
Learning lots about Internet Safety today #UP2US pic.twitter.com/oXYuxyCr4i

— MissHallinan'sClass (@1st2ndculleens) February 7, 2017
Mr Donovan's junior infants are learning all about online safety! Keeping their faces hidden online! #sid2017 #UP2US pic.twitter.com/rlCeJbs4rB

— Ss Peter & Paul JNS (@MrsVHeffernan) February 7, 2017
Happy #SaferInternetDay #UP2US Learning how to keep safe on the Internet. pic.twitter.com/tUz9lSsSqz

— castledrumns (@castledrumns) February 7, 2017
1st years advertising #saferinternetday with a mannequin challenge #up2us #webwise pic.twitter.com/FR71Lh7NPe

— Mercy Inchicore (@mercyinchicore) February 6, 2017
The Feathers in the Wind by Lisheen NS
To mark Safer Internet Day, 7th February 2017, Lisheen NS created this video based on the folk tale of "The Feathers in the Wind".
"We would like to think our message will make us, and hopefully others, think about the consequences of what we post online. Events unfolded exactly as shown in the film – our teachers took us to the yard, told us the start of the story, produced the pillow, then left whatever happened, happen, before concluding the story and reminding us of the power of the internet and cautioning us about anything we might ever put online. A strong message – we're still searching for feathers!"
Cloghroe National School Hosts Internet Safety Week
To mark Safer Internet Day, the pupils of Cloghroe NS broadcasted internet safety tips on a Radio Show over the intercom system. They promoted different internet safety tips each day in the hope that it would spark classroom discussion and debate every day. In addition to this, the school also created a dedicated internet safety page for parents and pupils offering lots of useful tips and advice: cloghroens.com/internet-safety-2017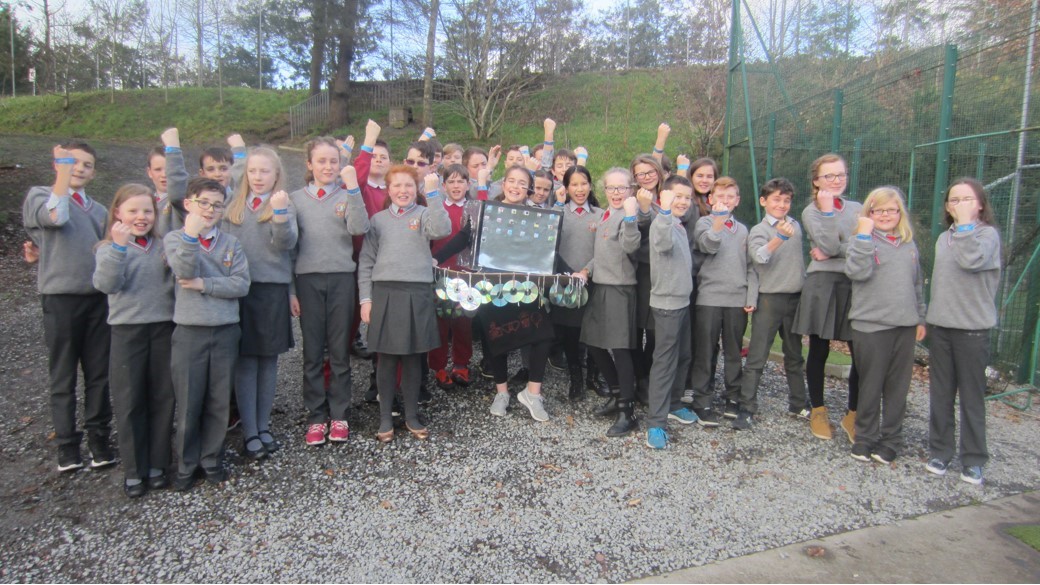 That's only a small taster of how Ireland celebrated Safer Internet Day 2017, thank you to everyone who joined in and shared their stories with us. For more information on Safer Internet Day in Ireland go to: saferinternetday.ie/