Safer Internet Day in Ireland 2019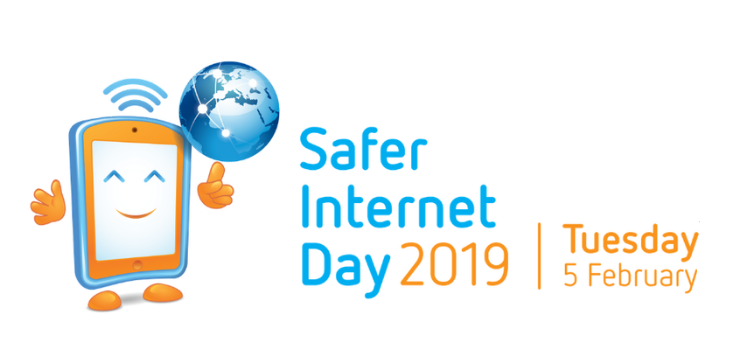 Across Ireland, Safer Internet Day has attracted more participants than ever before. This year, almost 145,000 people signed up to the Safer Internet Day in Ireland Event Map, highlighting what they were doing to celebrate Safer Internet Day. Over 140 countries observe Safer Internet Day and that number is growing each year. Find out what other countries have done to mark Safer Internet Day here. To mark Safer Internet Day 2019, Tuesday, 5th February 2019, Webwise, the internet safety initiative of the Department of Education and Skills,  launched a new educational resource called 'HTML Heroes – An Introduction to the Internet'.
HTML Heroes Introduce Internet Safety to Primary Pupils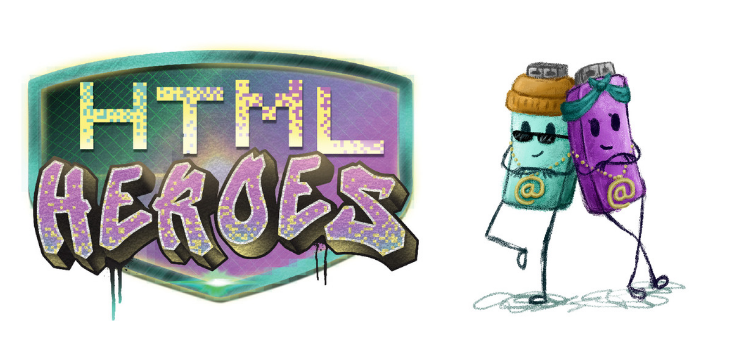 The 'HTML Heroes' Programme is aimed at promoting safe online practices for pupils in 3rd and 4th classes. It contains 8 lessons and is supported by three colourful animations where two USB characters, Archie and Ruby, perform catchy and informative internet safety raps.
As with all of the Webwise resources, it is closely aligned to the SPHE curriculum and other key areas within the Primary curriculum. The programme was developed in consultation with a panel of experts within the fields of special education, online safety, parenting, digital technology and SPHE. The programme went through a thorough testing phase with a selection of schools across Ireland before its launch on Safer Internet Day. Some of the topics that are covered in the HTML Heroes are: privacy, cyberbullying, evaluating information online, advertising and fake news. It was important to highlight newer concerns such as screen time, online gaming, online advertising, and social media. The resource is an online-only resource and will be free for all schools to access from February 5th 2019 via webwise.ie/html-heroes. Schools across Ireland will also receive an information pack with the resources on their very own HTML Heroes USB stick following the launch. The pack will also contain a prepared, scripted Internet Safety Talk for Parents, which schools can use to promote online safety with the wider community.
Minister for Education and Skills Joe McHugh TD said:  "Digital and online safety is a key issue for children and young people, as well as for parents and teachers.  It is important that schools have access to excellent resources to support children to learn about safer use of the internet.  The HTML Heroes education programme is a really creative and dynamic programme, which has had lots of input from children to ensure its messages are clear.  It provides primary schools with an excellent introduction to internet safety and digital literacy as an integral part of the Government Action Plan for Online Safety."
Ciara O'Donnell, National Director, Professional Development Service for Teachers:
"This is a wonderful programme for Primary schools, fun, informative and engaging for students. New technologies bring challenges and benefits, this new resource will assist schools and young people as they begin to use technology and the internet."
Second-level Students Lead the Way in Online Safety
Young people from all over Ireland came together on the 10th of January to take part in the annual Webwise Safer Internet Day Ambassador Programme in Google Headquarters in Dublin. Over 130 second-level students signed up to become Safer Internet Day Ambassadors, promoting online safety in their schools, clubs, and communities. The peer-led initiative by Webwise Ireland has been running for the last five years and has proved hugely successful in promoting internet safety in schools around Ireland.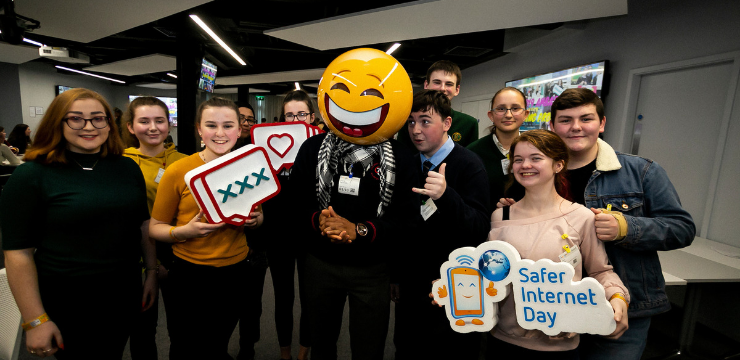 The students involved in the programme got involved because they wanted to tackle online safety issues with their peers and help make the internet a better place for young people. It is vitally important that young people feel empowered to act on issues such as cyberbullying, fake news, photo-sharing, and to promote healthy practices among their peers. Many of the students feel that they are a generation that uses the internet the most and they would like the tools to help others when they run into difficulty. The Safer Internet Day Ambassador Programme is a great way to meet like-minded teenagers, discuss issues and come up with solutions. Each SID Ambassador has committed to leading an internet safety campaign in their school for Safer Internet Day.
Students Awards for Online Safety Initiatives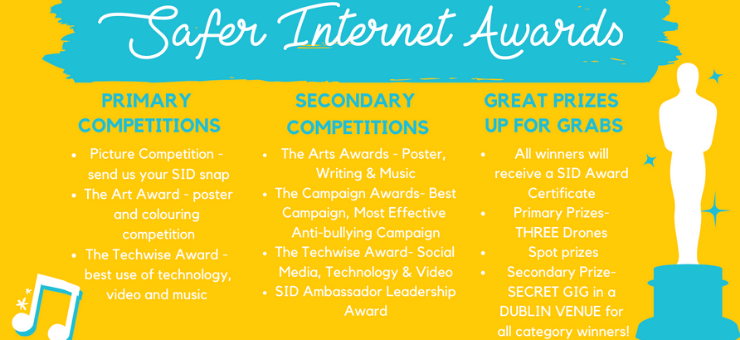 To recognise the work being done around Ireland for Safer Internet Day, Webwise has launched the very first Safer Internet Day Awards. The SID Awards are open to both primary and second-level students and have a range of competitions students can enter. Categories in the competition include: Best Use of Social Media, Best Use of Technology, Best Arts (Music, Poster, Art, Writing), Best Anti-Cyberbullying Campaign, Best Video, Best Whole School Campaign, and the Safer Internet Day Ambassador Leadership Award.
There is a host of amazing prizes on offer, such as three drones for primary school entrants, and a SECRET GIG held in Microsoft Dreamspace for secondary school winners. Schools have until March 5th to enter. For more information, visit http://www.webwise.ie/sidawards.
Industry Take Action for Safer Internet Day
Twitter Ireland hosted a panel discussion for SID 2019 discussing the four R's of online safety: Respect, Responsibility, Reasoning, and Resilience. Panel members Senator Aodhán Ó'Ríordáin, Andy LeeLouise Bruton, and Ellie Kisyombe shared their professional and personal experiences on the topic. Google Ireland used Safer Internet Day as an opportunity to release new password and account protection tools for users whilst tech giant Microsoft Ireland also marked Safer Internet Day by publishing its findings of its Digital Civility Index (DCI). The index shows how safer and civil each country is based on their online interactions. Results showed that Ireland ranked 11th out of the 22 countries surveyed. The UK was rated as the safest and most civil county, closely followed by the US.
Organisations and industries across Ireland used Safer Internet Day to promote safe online practices. Trend Micro launched its video competition, Eir Ireland released new cyberbullying leaflets with each new device sold and Cybersafe Ireland published results of a survey on the digital habits of children aged 8-10 and also created a leaflet for Parents of young children.