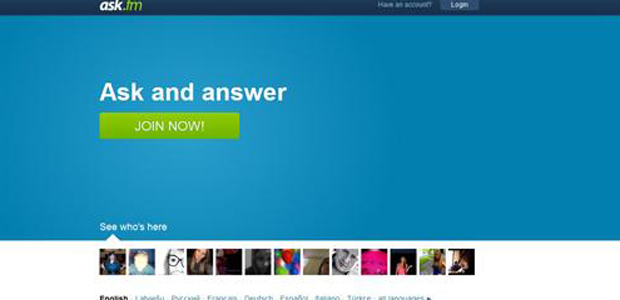 Explained: What is Ask.fm?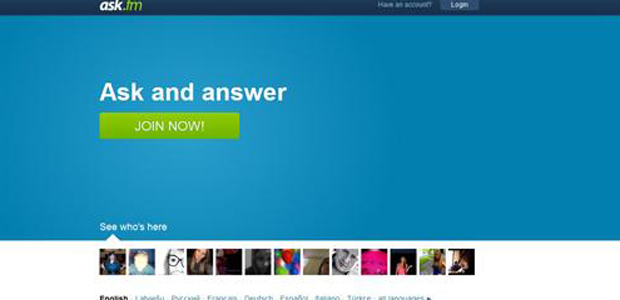 Ask.fm is a question platform site and is among the latest breed of web apps to become popular with Irish children.
It's one of many similar websites now easily accessible online but is ahead of rivals like Formspring and Spillit with young Irish users.
Ask.fm is a question asking and answering service that gives people the opportunity to ask and answer controversial questions totally anonymously.
The answers can be either in text or video format, and users can also browse other people's profiles with the option of submitting questions directly to them.
The service is very easy to use — you can pose a question to one particular person or to all users, or you can answer any question that comes up on your feed.
Typical questions that appear on the site include, "What would you do if you won the lotto?", "What is the scariest movie you have ever seen?", and "What was the last YouTube video you saw?"

This site is highly integrated with popular social networking sites like Facebook, Tumblr and Twitter.
Users can invite their friends and followers to ask them questions by posting links on their timelines or twitter feeds.
Users can also share questions or responses on a user's ask.fm profile on Facebook by 'liking' them.
What are the Risks for Children Using Ask.fm?
We understand that question apps are mostly great fun and only cause harm when abused.
But judging from what we are hearing on the ground, abuse is widespread.
You only have to skim through the site to see that sexualised, abusive and bullying content can be, and is being posted unchecked.
The unique selling point of Ask.fm is its guarantee of anonymity, with the website recently telling its followers on Twitter it will never release the information of anyone who posts to the site.
The site contains sexualised, abusive and bullying content
The fact that you can ask someone whatever you like or post anything on their profile without revealing who you are, seems to heighten the levels of disinhibition often associated with young people communicating online.
In other words, we tend to say things to people online that we wouldn't say to their face – this is exaggerated when we communicate anonymously.
The result is that liberally scattered amongst the questions about celebrity and lifestyle are highly sexualised, abusive, and downright nasty questions and comments.
The site also raises many issues around privacy. It has very few privacy controls which mean that both questions and answers can be viewed by anyone, even non-users of the site.
Safety and privacy information is published on the site, however, there is no requirement to read any of this when signing up.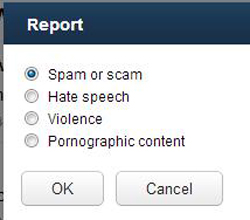 This is the default setting and there doesn't appear to be an option to change this: once a post is published it is publicly accessible.
Despite press reports to the contrary, it is possible to report inappropriate content on ask.fm and you do not need to be logged into the site (i.e. a user) to do this.
When you move your mouse over any post on someone else's profile, you will see an option to like the post and also a drop down arrow which allows you to report the post for one of four reasons.
It is also possible to block other users, by scrolling to the bottom of their profile page and clicking on but users need to be logged in to do this.
Users can also remove any questions from their own profile by clicking on the cross in the top right hand corner of every question and answer.
Advice for Parents About Ask.fm
Above all else, it is vital that you have good, open communication with your child about what they do online.
Remember you may not know all there is to know about tweets, blogs and apps but you do know about parenting and all the same principles apply.
You should sit down with your child and discuss their use of Ask.fm.
Setting rules and boundaries around your child's use of this site is important.
All children are different and parents need to decide what approach is best for their child.
Typical approaches vary: from agreeing what is suitable behaviour on the site, regularly monitoring their activity, or not allowing them to use it at all.
At the very least you should agree that they will always treat others with respect and let you know if anything happens that upsets them.
For rules and boundaries to be really effective they are best developed between you and your child.
Having this chat with your child can give you a lot of information about their online activity and concerns.
The conversation surrounding the agreement of rules can often be as useful as the contract itself.
If your child has had an input in developing the agreement in relation to their use of Ask.fm they are more likely to see the rules and sanctions as fair and are therefore more likely to abide by them or discuss them at a later date if they feel they should be changed.
It is also worthwhile to be up front about sanctions for not sticking to the agreement.
Rules work best when agreed together
One of the reasons children say they don't tell parents about things they come across on the internet, is because they feel parents may take away their internet access.
You should consider using other sanctions, like extra chores or withdrawing other privileges.
It is important that you reassure your child from the outset that they can come to you about anything they may have seen on the internet. Make sure the channels of communication are always open.
Remember that banning or forbidding a site outright may simply mean that your child will hide their use from you which will mean they cannot talk to you if they encounter problems.
If you have a query on any aspect of your child's education, including bullying, please contact the National Parents Council Primary Helpline on Tel: 01-8874477or email: helpline@npc.ie.
The Helpline is open from Monday to Wednesday from 10am to 5pm, and on Thursday and Friday from 10am to 4pm.
Advice for Schools About Ask.fm
The first thing schools should be aware of is that Ask.fm and other similar sites are blocked on the Schools Broadband Network.
Of course, this doesn't mean that it can't be accessed from school on personal devices or that you won't encounter the fall-out from bullying situations arsing from home use of the site.
If you become aware that pupils in your school are using the site, you should use the opportunity to remind them of your school's Acceptable Use Policy and Bullying Policy.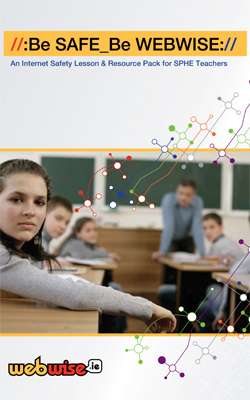 This becomes very important if you find yourself in a situation where disciplinary action needs to be taken.
Implementing policies involve more than simply signing and filling out forms: it is vital that you regularly appraise your pupils of their responsibilities.
It is also an opportunity to reinforce a positive school climate which focuses on respect for the individual.
It is our responsibility as educators to promote a change in attitudes so that pupils realise they have a responsibility for the safety and welfare of fellow pupils.
Webwise, in collaboration with Social Personal and Health Education (SPHE) Support Service, have created an Internet Safety teaching and learning programme – //:Be SAFE_Be WEBWISE:// – that can help you do this.
The programme is designed to address the personal safety needs of our young people when online and can be used to implement the SPHE curriculum at the Junior Cycle.
Young people take on new roles and responsibilities during their teenage years, renegotiate relationships with adults, peers, and the community, and experiment with things symbolic of adult life.
These socialization experiences are often accompanied by the adoption of risk-taking behaviour that can compromise health and safety.
While healthy risk-taking is a positive tool in an adolescent's life for discovering, developing, and consolidating their identity, the SPHE Internet Safety programme encourages young people to reflect on their attitudes and values and to adopt appropriate behaviours that will assist them in coping with life's challenges in regard to their online lives and behaviour.
How to Respond to Bullying Messages on Ask.fm

Whether you are a teacher, a parent, or someone who works closely with children, the advice you give them on how to cope with bullying situations should be the same.
This four step mantra applies just as well to Ask.fm as to all other online situations:
If someone makes contact with you in an inappropriate or hurtful way, block them, keep the message or comment as evidence, and report them to the owner of the website. Don't respond to bullying or harassing contacts – this just creates more trouble. In the case of bullying messages you should talk to a teacher, parent or a trusted adult you know about it.
More serious cases that could be illegal – such as if someone makes inappropriate sexual suggestions or is 'grooming' a person under-16 years old – can be reported to the Gardaí or anonymously to www.hotline.ie, where all reports are taken very seriously and passed on to the Gardaí when appropriate.
If you need someone to talk to please call Childline at 1800 666 666.