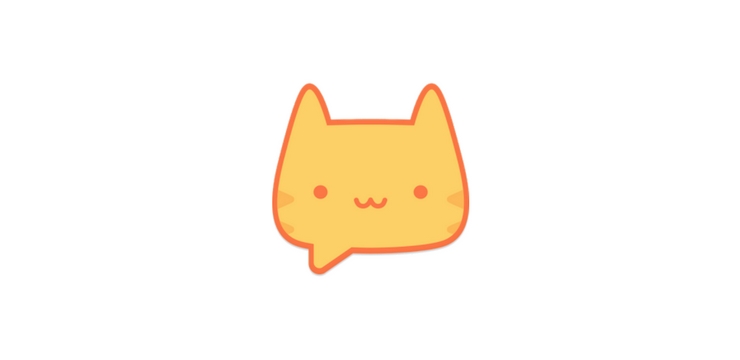 Explained – What is MeowChat?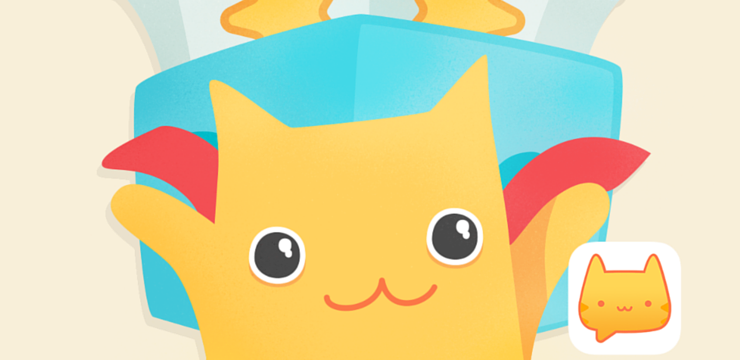 MeowChat allows users to talk with friends and chat to new people nearby or across the world.
UPDATE:
Under the new E.U General Data Protection Regulation (GDPR), Ireland has now set the Digital Age of Consent to 16 years old. This means young people under the age of 16 in Ireland are not allowed to access this platform.
It is often described as a cross between Whatsapp and Tinder. Users can message each other (one on one or in groups), share gifts, send video/audio messages, browse other users profiles and more.
Why Do Teens Like the App?
The app is free to download and makes it very easy for teens to chat and meet new people. The colourful, playful design (the apps icon is a cute cat illustration) is also appealing to many teens.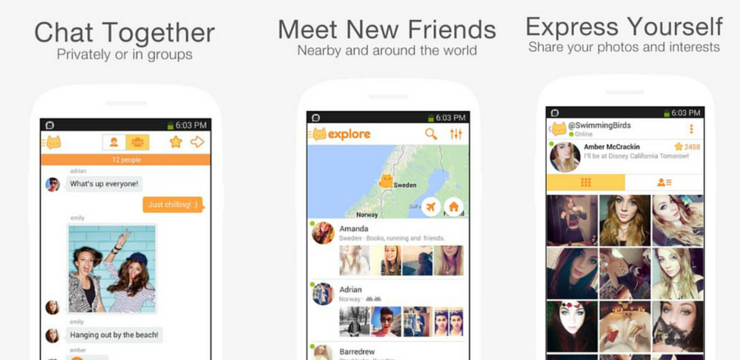 How Does it Work?
Users download the app, they can then sign in using their Facebook login details and instantly chat with Facebook friends. Alternatively users can set up an account using their email address. Once users have set up their account, they are encouraged to make friends, chat to new friends or explore profiles nearby and from around the world.
What to Watch Out For?
When setting up profiles, users are prompted to share their MeowChat profile name on their other social profiles, encouraging users to connect with others. Note: Some social networks are public – something many children or teens may not be aware of. By sharing profile information on a public network, this could potentially invite unwanted contact.
Once you have set up your account, you can very easily start chatting with strangers, via the Random Chat option. Users can chat one on one or in groups, it also allows users to select to speak with other MeowChat users who are nearby or chat to other users from around the world. The risks with this particular function are obvious, we would recommend exercising caution if using the app.
There is also an Explore option, users can see what other users are nearby, view their photos and like their profiles (similar to the way some dating apps work). There is an option to explore profiles from around the world, the user simply selects the airplane icon which will randomly select an area allowing users to see what MeowChat users are in that particular area. Again this function encourages users to talk to new people. In addition, there is a preferences option within the Explore section allowing users to select who they would like to view (Everyone, Only Girls or Only Guys). .
Users can choose to hide their age and there is no age verification process. These can be worrying features for parents. It should also be noted that content on the app is not entirely appropriate for users under the age of 18.
It can be very easy to access inappropriate content or speak with someone over 18.
In addition the app regularly serves a range of ads to users and offers a points collecting system based on how many faves (profile likes) users collect. Users can also purchase coins. Note: in app purchases must be enabled for this function and a credit card must be associated with a users Android Store or iTunes store account.
How to Minimise Risk on the App?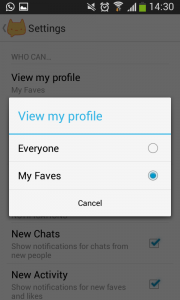 If your child/teen is using the app, there are a number of ways to minimise potential risks. Unlike other similar apps, MeowChat offers little in terms of privacy or information on safety, we would recommend updating privacy settings from the default public setting to My Faves' – this means only people you choose (by favouriting their profile) can see your profile or message you.
As noted, the app encourages users to share their MeowChat username on other social media accounts to make more friends. We would recommend skipping this option. Consider using the app for friends you know already. While the explore and random chat apps may be a good way to meet new people, not all content on these functions is appropriate for teens.
It is important that users know exactly how the app works and what to do if they encounter something they don't like. Here's some information on blocking, reporting and disconnecting with other profiles.
How Do I Block Someone?
It is not easy to find information on blocking/reporting users on the app. There is a blog with information on this here: blog.minus.com/help.
You can block and report a user by pressing the button at the top right of their profile. Users are unable to block someone without also reporting them, this may put off some users from blocking people.
How do I unfavourite someone?
You can unlike or disconnect with someone by going to their profile and pressing Unfavorite.