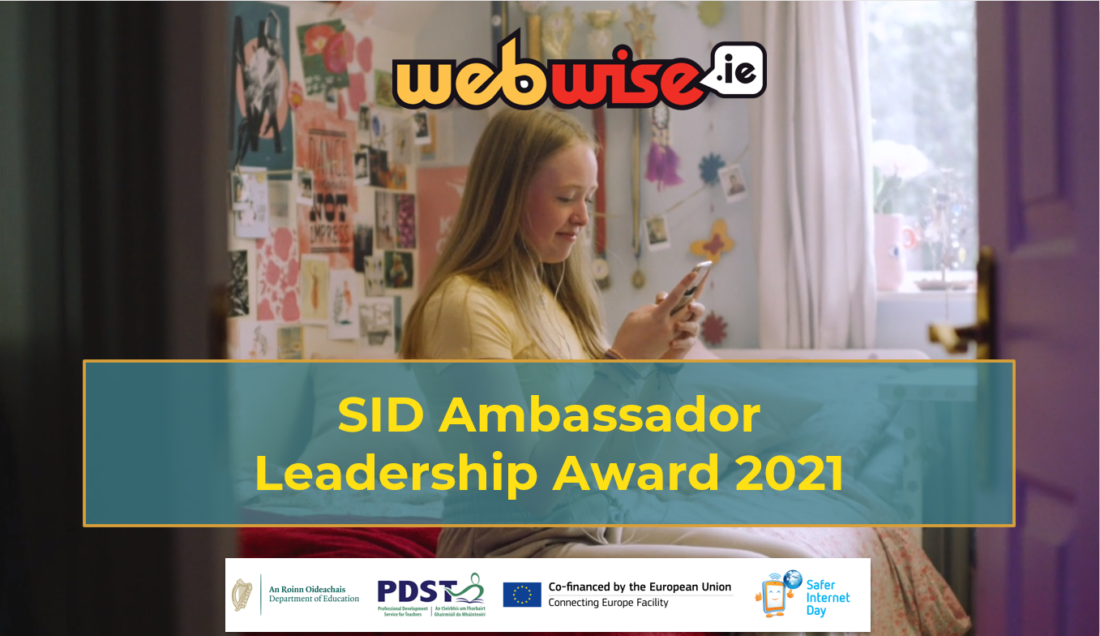 SID Ambassador Leadership Award Winners 2021

The SID Ambassador Leadership Award recognises the hard work and dedication of the Ambassadors to run their own internet safety campaign, and the positive impact these actions have on their school and wider community.
SID Ambassador Leadership Award Winners 2021
Niamh Clerkin and Briana Mac Cinna from St. Louis Secondary School, Co. Monaghan.
We are delighted to announce that the winners of the 2021 SID Ambassador Leadership Award are Niamh Clerkin and Briana Mac Cinna from St. Louis Secondary School, Co. Monaghan. In their Safer Internet Day campaign they demonstrated the SID Ambassador values of respect, leadership, commitment, inclusion and teamwork. Despite the school environment looking different in 2021, their efforts to promote online safety and digital citizenship were innovative and engaging. From addressing topics such as online wellbeing, digital resilience, digital footprints and privacy, Niamh and Briana's SID2021 campaign raised awareness amongst their peers in school and members of their wider community.
St. Louis TY students Briana and Niamh have won the Webwise Safer Internet Day Ambassador Leadership Award, for the brilliant Online Safety and Digital Literary programme that they organised and promoted. #saferinternetday @PDSTie @Webwise_Ireland @lecheiletrust #STEM pic.twitter.com/pLvhOTBDXq

— St. Louis Monaghan (@StLouisMonaghan) April 20, 2021

The Safer Internet Day campaigns by this year's SID Ambassadors were of an extremely high standard and engaged a range of audiences to highlight the importance of creating a safer, better, internet for all.
Congratulations to Grace O'Sullivan and Aoibheann Regan, Loreto College, Mullingar, Co.Westmeath in 2nd place.
We would also like to acknowledge the efforts of more of this year's SID Ambassadors for running a Highly Commended campaign.
Highly Commended
Jack Fitzgerald and Martina Sheahan, Castletroy College, Limerick
Patrycja Sykula and Erin Hodgins, Fingal Community College, Co. Dublin
Abbie Wills, Colaiste Chraobh Abhann, Kilcoole, Co. Wicklow
Amy Croly, Homeschooled
Congratulations again to all our SID Ambassadors on all the hard work and effort you put into running effective Safer Internet Day campaigns for the whole school community. It has been so inspiring to see all the thought and consideration you put into creating your SID campaigns and seeing the impacts of the campaigns on your peers, teachers and parents. We would also like to take the opportunity to commend the work of your teachers who have been supporting you throughout the programme and do such an important job in our schools.
About the SID Ambassador Programme
Our Safer Internet Day Ambassador Programme is a peer-to-peer youth programme that gives students an opportunity to start an online safety campaign in their own school.
The Ambassador Programme empowers students by providing them with opportunities to develop leadership, human-relations, team-building and communication skills. Students make a commitment to lead by example, demonstrate respect and responsibility, and engage in community service.
Find out more about it here.
SID Ambassador Training Day 2020 from PDST Technology in Education on Vimeo.