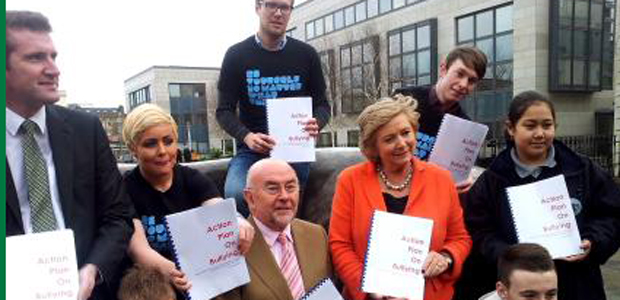 Action Plan on Bullying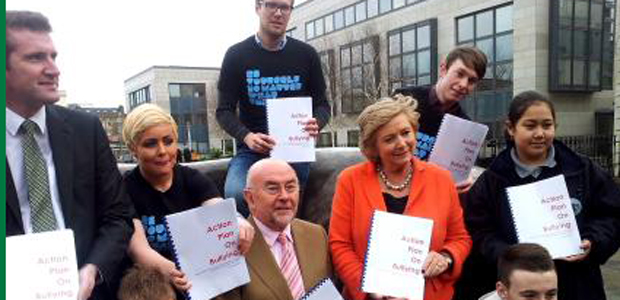 At the end of January 2013, a new Action Plan On Bullying was launched by Ministers Ruairí Quinn T.D.(Education and Skills) and Frances Fitzgerald T.D.(Children and Youth Affairs).
The plan outlines 12 priority actions that can be undertaken by schools and parents in helping to address and tackle bullying in our education system.
What are the 12 points in the Action Plan On Bullying?
New National Anti-Bullying Procedures for Schools. From the next school year onwards, schools will have to have an anti-bullying policy in place. It should respect diversity and form part of the school's Code of Behaviour. Ultimately it is the responsibility of the Board of Management to make sure everyone is aware of the policy.
Review of Teacher Education Support Service provision. Continuous Professional Development (CPD) services will be streamlined and coordinated to give a cohesive response to teachers wishing to improve their templates and methods for dealing with potential bullying situations and behaviours.
Coordinated training and resource development for boards of management and parents. A coordinated plan for training and awareness initiatives for parents and boards of management to be provided in conjunction with management bodies and parents councils.
School Inspection. The school community should be addressed via questionnaire to assess the effectiveness of the school's actions to create a positive school culture and to prevent and tackle bullying.
Thematic Evaluation of Bullying in Schools. Study to be carried out in a sample of primary and post-primary schools looking at how effective the actions taken to promote a postivie school culture have been.
School Self Evaluation. Schools to be supported in the self-evaluation procedures necessary to gauge the effectiveness of positive school cultures and additional methods to tackle bullying.
New national anti-bullying website. A single national anti-bullying website should be developed to provide information for parents, young people and school staff on types and methods of bullying and how to deal with bullying behaviour.
Stand Up Awareness Week Against Homophobic Bullying. Department of Education and Skills to support the Stand Up Awareness campaign which supports LGBT young people or young people perceived to be LGBT.
Support a media campaign focused on cyber bullying and specifically targeted at young people. Safer Internet Day takes place in early February every year. This is proudly promoted in Ireland by webwise.ie and in 2013 we ran this campaign as the first action of the Action Plan on Bullying. A social marketing campaign was also rolled out in early 2013 specifically targeted at young people.
Research on effective supports for children with special educational needs. New research from The National Disability Authority to look at prevention of bullying of children with special educational needs.
Research on prevalence and impact of bullying linked to social media on the mental health and suicidal behaviour among young people. Literature review from the National Office for Suicide Prevention to examine the incidence of bullying linked to social media and impact on the mental health and suicidal behaviour among young people at school.
Awareness raising measures, including guidelines, for policy makers and DES agencies and services which work in the schools sector on all types and forms of bullying. All policy staff of relevant DES business units and DES agencies and services will be invited to participate in a series of internal seminars to build capacity in respect of bullying.
Read the full text of the report.
[gview file="https://www.webwise.ie/wp-content/uploads/2014/05/Action-Plan-On-Bullying-2013.pdf"]