Introducing social media into the classroom
Social media is now a key part of how young people communicate and interact with the world. As a result many schools and teachers are now introducing social media into the classroom. If you're a teacher interested in getting started, there are many pros for using social media in the classroom, these include:
Developing and improving digital literacy skills
Developing pupil's communication skills
Students can connect and communicate with other classes and schools around the world.
Encourage more class participation
Social media can be an excellent tool for class and group collaboration
Social media is an excellent way for students and teachers to share information
There are also some risks involved with using social media in class, however with the right knowledge and preparation, these risks can be managed. Some risks to be aware of:
Inappropriate content: The last thing a teacher wants is to inadvertently show pornographic or other unsuitable content to their students.  You should be aware that porn is readily available on some social media services, including Twitter and Tumblr, in particular. Other platforms, including YouTube, advertise services that might not be appropriate for the classroom. While there are filters on the Schools Broadband Network to prevent this happening; If you are going to use social media in the classroom, it's best to test it beforehand in this setting.
Bullying: The use of social media could leave you open to receiving abusive and inappropriate communications.  If you are posting images of students or their work you could also potentially expose them to nasty or unwanted comments. To avoid this risk, ensure all posts are moderated. On most social media sites there are options to disable other people from commenting on your posts completely or some social channels offer the option of approving comments by the channel owner before they go live.
Passwords: We need to be careful that we don't lose control of the class social media account. Giving a whole class access to the login details of a social media account could result in the misuse of that account or you being locked out of the account. TIP – don't share your passwords or leave your account logged in on machines that others can use. Change your password regularly.
Loss of reputation: We need to be careful that anything we post on social media does not reflect badly on the school or any member of the school community. It is important that you and your pupils are aware of the school policies in relation to use of social media.
Privacy: When posting about children we need to be very careful that the content we post doesn't disclose personal information about the children. Information about pupils' educational attainment, special educational needs, and health or family concerns can be very sensitive. You need to make sure you don't share this information, even inadvertently, in your posts.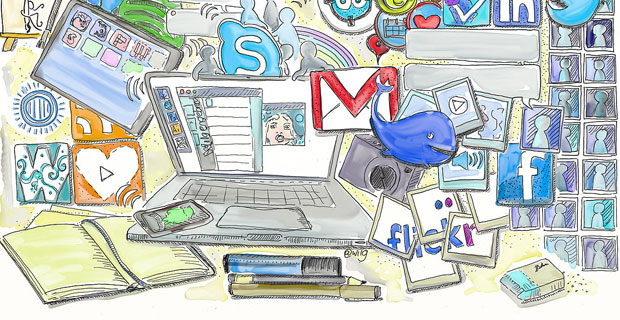 Before integrating social media into the school day, there are four steps you should take to help avoid difficulties: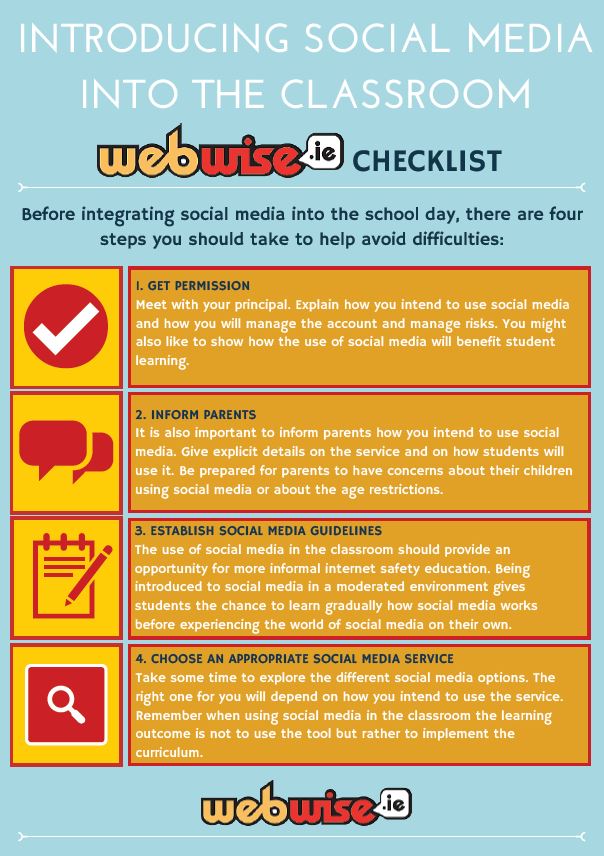 Introducing Social Media into the Classroom >>> Download Checklist
For an overview of how to use the internet (including social media) safely in your classroom, together with expert inputs and advice, why not consider doing our short online course? Click here for a course description. Course delivery dates and enrolment information is available via TeacherCPD.ie.