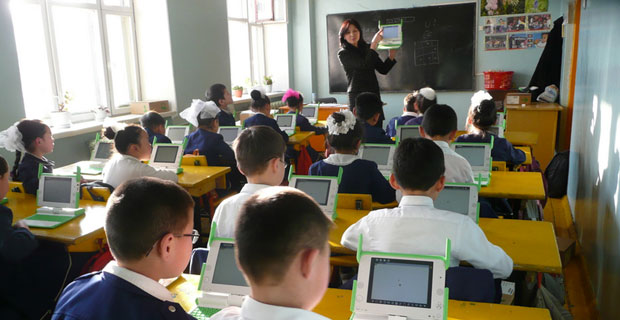 Supervising Internet Use in the Classroom
Introduction
Will you be using the internet in your classroom this year? There are a number of things to consider before introducing internet use in the classroom. This guide will help you take practical steps to maintain a safe learning environment when using the internet and social media.
For more teacher videos go to: youtube.com/webwise/teachers
Room Layout
The physical layout of the room can be important here. A horseshoe layout makes it easier for you to keep an eye on what's happening on their screens.
Supervising Tablets
Supervising students using individual tablets can be more of a challenge. It might be an idea to reserve the right to check apps in use. You can do this by double clicking the home button on an iPad.
Keep Records
It is also a good idea to keep a record of who uses each machine, in case an incident arises.
It can simplify things if you assign a pupil to a particular machine for a period of time.
Checking Browser History
We recommend checking the browser history regularly to see what websites are being accessed. Please note viewing the history differs between internet browsers. If you are struggling, open your preferred search engine and see if you can find a video showing how to do it.
Network Logs
All internet activity is also recorded in network log files. These files should be monitored by your network administrator for unusual or worrying activities. You might need to access them if you have a serious incident to deal with. Checking the log files can be a tricky task and might require some knowledge of the technical aspects of your network.
Using Online Content
The key to success when using online content, such as videos or articles, in your lessons is preparation. Whenever possible, check the content that you are intending to use in the classroom beforehand. See if the site is accessible through the school's content filtering system, and check the appropriateness of both the content and the surrounding content. Usually online video clips are surrounded by links and adverts; some of these might target an adult audience.
You might also consider
Remember many services will display ads and recommend other content based on information they have gathered about browsing habits on the machine you are using. This can problematic or embarrassing but can be avoided by checking content in advance on the machine you intend to use in class. You should be extremely vigilant if you are using a personal device not supplied by your school.
In the case of video clips you could consider embedding clips in a web page.
Where possible you could download the content in advance and use it offline. This way you also avoid possible technical issues.
Get Safe Search
Similarly, if you are going to use a search engine in front of pupils, do a 'dry run' and check the results are appropriate. On the Schools Broadband network Safe Search is enabled on all browsers to prevent inappropriate search returns but nothing is 100% effective.
Get more tips and advice here: webwise.ie/category/teachers/