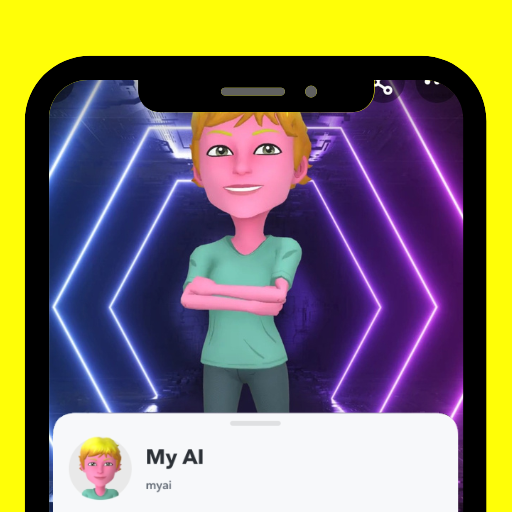 Explained: What is Snapchat's My AI?
Snapchat's My AI is described by Snapchat as an experimental, friendly, chatbot currently available to Snapchatters. Initially available to Snapchat+ subscribers, it has now been introduced to all users of the app. 
Say hi to My AI, our new chatbot located at the top of your chat. Write a song for your bestie who loves cheese, find the best IYKYK restaurant, or Snap it a photo of your garden to find the perfect recipe. Now free for all Snapchatters. #SnapPartnerSummit pic.twitter.com/U2KdozuWQz

— Snapchat (@Snapchat) April 19, 2023
My AI automatically appears in a users' contacts list, and is pinned to the top of the app's chat tab where users send, and receive, messages from their friends. A customised version of OpenAI's ChatGPT,  My AI can have conversations with users, offer advice and answer questions.
How does Snapchat's My AI work?
According to Snapchat, In a chat conversation, My AI can answer a burning trivia question, offer advice on the perfect gift for your BFF's birthday, help plan a hiking trip for a long weekend, or suggest what to make for dinner.
My AI appears in the app in much the same way that a user's friends do, and works like messaging another person on Snapchat – like you would with friends. Users can converse with My AI, ask it questions, share pictures, and include it in chats with friends. My AI is located in a user's friends list, and is pinned to the top of a user's chat feed.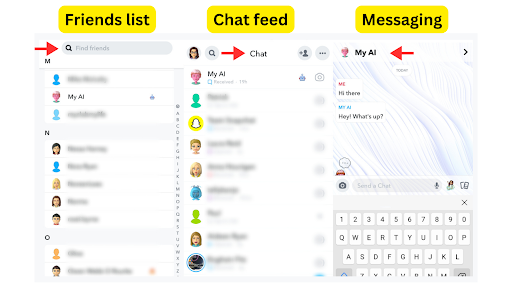 My AI looks like a real friend on Snapchat, and allows users to customise the name, design a Bitmoji avatar for it, and has a profile page that looks like a Snapchat friend's profile page.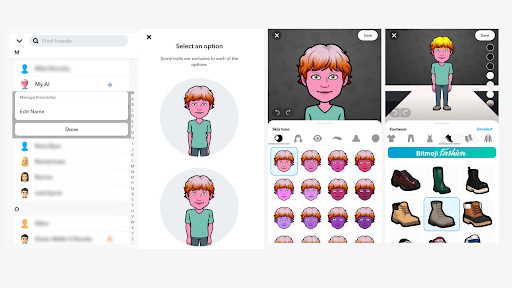 What are Chatbots?
Chatbots are computer programs that are designed to have a human-like conversation with people. They get their information from a database of pre-existing information and use artificial intelligence to understand what people are asking and to come up with a response to that query. Chatbots are typically used for a variety of purposes including customer service functions such as answering queries from customers; personal assistance tasks like scheduling appointments; they can be used for research in education; and to provide personalised recommendations for marketing purposes.
What are the benefits of chatbots?
Chatbots can be a helpful way of saving time and resources by automating routine tasks, researching information, and answering questions.
What are the concerns about Snapchat's My AI?
Since its launch My AI has raised concerns from teenagers and parents around issues about the experimental nature of the technology, privacy, access to data, exposure to unreliable or harmful content and the inability to delete My AI from the app unless users are paid subscribers to Snapchat+.
Privacy and Data
Snapchat advises that you should avoid sharing confidential or sensitive information with My AI. Information that is shared with My AI including location data is used to inform the responses given by My AI, including for nearby recommendations. It will have access to location information, if a user has previously granted location permission to the app. This is also the case if users are in 'Ghost Mode' – friends won't be able to see your SnapMap location, but My AI may still have access to location information if this is a permission given to the app. Find out how to make changes to this permission on Android and on iOS. 
Unlike messages with friends, information shared with My AI will be retained unless it is deleted, which Snapchats says may be used to improve its products and to personalize your experience, including ads.
How do I delete My AI data?
–   Tap on your user Profile and tap on the Settings icon
–   Scroll down to 'Account Actions'
–   Tap 'Clear My AI Data' and tap 'Confirm'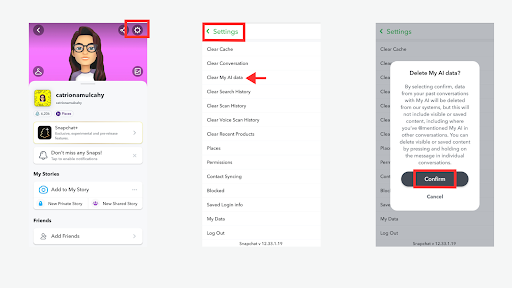 Unreliable and Inappropriate Content
Users of My AI may encounter inappropriate or harmful content. Snapchat says that My AI has been programmed to adhere to the it's community guidelines, and an age signal using a user's date of birth to take their age into consideration in the chatbot response. However, it also acknowledges that it may not always be successful in filtering harmful content:
While My AI was programmed to abide by certain guidelines so the information it provides is not harmful (including avoiding responses that are violent, hateful, sexually explicit, or otherwise dangerous; and avoiding perpetuating harmful biases), it may not always be successful.
Can I delete My AI?
Only users who are subscribed to Snapchat+ can delete My AI.
How can I report a chat response from My AI?
Press and hold on the Chat response and tap 'Report'

Select why you are reporting the Chat

Tap 'Submit'
What are the risks?
Exposure of young users to experimental technology:
Snapchat describes My AI as "an experimental, conversational, AI-based chatbot that will learn over time." Research shows that Snapchat is one of the most popular services used by 9-17 year-olds in Ireland (NACOS), creating concerns about rolling out an experimental and evolving technology to young users, and the potential to expose them to unnecessary risks.
Privacy concerns:
Designed to be a "personal sidekick", Snapchat says that My AI is there to help and to connect you more deeply to the people and things you care about most. While My AI is a chatbot, it is designed to look and feel like a friend. Users may inadvertently share personal information with the chatbot. Unless a user deletes the chat, Snapchat retains messages exchanged with My AI, which Snapchat says may be used to improve Snap's products and to personalize your experience, including ads.
Inaccurate, misleading or harmful content:
My AI may not always provide accurate or reliable information, and users could be provided with responses that expose them to inappropriate or harmful content. It is important for users to question the accuracy and reliability of information they receive, and understand that My AI is not intended to provide advice or a help-seeking pathway.
Advice for parents:
Discuss privacy and safety: Talk to your child about the risks of sharing personal information online, including with chatbots like Snapchat's My AI. Encourage them to review their privacy settings, and to understand how to manage their data, and report inappropriate content.
Encourage critical thinking: Encourage your child to question the accuracy and reliability of information that they receive from My AI, to seek out independent sources of information, and to come to you, or a trusted adult, if they need advice or contact to Childline's listening service on 1800 66 66 66. 
Stay informed: Become familiar with My AI and how it works, explore its capabilities to ensure that it is appropriate for your child's age and interests. 
Encourage your child to use chatbots like Snapchat's My AI or ChatGPT responsibly:  There have been concerns about students' potential use of chatbots to complete assignments or write essays, for example. It is important to talk to your child about how to use these tools in a safe, responsible and educational way. While they may not always provide accurate content, they can be powerful tools to source information, to research topics, and to improve language skills. 
Strike a healthy balance: If your child is using My AI, encourage them to use it as a supplement rather than a replacement for human interaction, and to engage with real friends. 
Have regular, open, conversations with your child: There have been rapid developments in AI generally, and it can be a challenge for parents to stay up-to-date with all the evolving technologies. The most important thing that parents can do to help to ensure that their child has a safe and positive experience online is to have open and honest conversations with them about their lives online, and the benefits and the challenges that they encounter. Our #TalkListenLearn online topic generator is a great way for all families to start the chat. 
Visit the Webwise Parents Hub for free advice from experts in parenting, technology, psychology, and education; Explainer Guides to popular apps and platforms; Talking Points; How-To Guides; and free resources including our A Parents Guide to a Better Internet - Updated 2021.