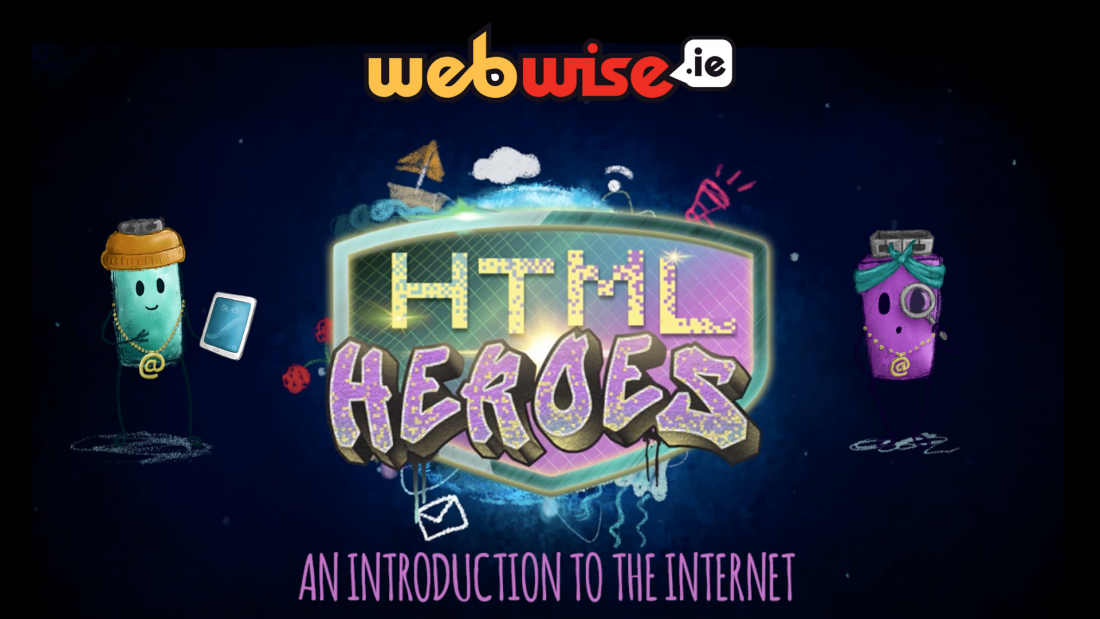 Html Heroes – An Introduction to the Internet launched to mark Safer Internet Day
Webwise, the internet safety initiative of the Professional Development Service for Teachers (PDST), a support service of the Department of Education and Skills, has seen a 25% rise in the use of its resources and supports since publication of the Action Plan for Online Safety by Government last July.
Its newest resource HTML Heroes introduces 3rd and 4th class pupils to the internet with the help of two USB characters (Archie and Ruby) who come to life when the classroom empties at break-time and perform catchy internet safety raps. The animations and supporting lessons are being launched as part of Webwise's work to raise awareness of Safer Internet Day 2019, Tuesday, 5th February 2019 and to promote the importance of online safety with parents, teachers and young people.
The resource will support primary school teachers and young people as they learn about safe and responsible use of the internet.
The HTML Heroes Programme comprises of eight lessons and three specially designed animations for use in the classroom. The resource introduces students to the internet, explains how it works and addresses key online safety topics including privacy, cyberbullying and evaluating information online.  The resource also addresses growing concerns about technology and the use of devices such as screen time, online gaming, online advertising and social media.
The education resource will be free for all schools to access from February 5th 2019 via webwise.ie/html-heroes.  All primary schools will receive a free HTML Heroes pack and user guide, the HTML Heroes animations and information on hosting parent talks in schools. Webwise's new online internet safety programme is linked to the SPHE curriculum and other relevant areas of the primary curriculum. The programme was developed in consultation with a panel of experts within the fields of special education, online safety, digital technology and SPHE.
Minister for Education and Skills Joe McHugh TD said: 
"In every home and every school we should be doing our best to ensure digital and online safety. "All of us have a duty to teach children how to avoid the dangers that the internet throws at us.
"But there is also an onus on us all to help children understand what is right and wrong, what behaviour is acceptable and how we should show respect and dignity for one another online. "Webwise are setting an impressive example.  Their work is creative, engaging and dynamic and it is clearly helping to tackle key issues for schools and to ensure they have excellent, age-appropriate resources to support children and young people to encourage a safer use of the internet."
The Government's Action Plan for Online Safety was launched in July 2018 with the work of Webwise in promoting and supporting online safety central to its implementation.  The number of students engaged in Safer Internet Day has grown by almost 40,000 to 140,000 nationwide since last year.
130 young people have become Webwise Ambassadors and took part in the Safer Internet Day Ambassador Training Programme to learn new skills and ideas for running their own internet safety campaigns in their school, clubs or organisations.
The Be in Ctrl back to school campaign created by Webwise, to raise awareness among young people about online grooming hit more than 1 million views in one week.
Ciara O'Donnell, National Director, Professional Development Service for Teachers, said:
"On behalf of PDST's Webwise initiative we are delighted to present another resource to support teachers and parents in raising awareness about use of the internet. This resource highlights both the benefits and the challenges of new technologies which are changing all the time. Rooted in the SPHE curriculum, this resource is engaging and informative for children who will also enjoy the fun and animated way it is presented."
HTML Heroes can be accessed for free here: webwise.ie/html-heroes