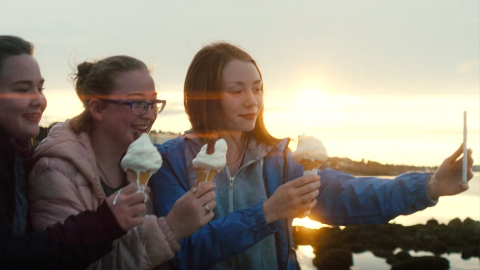 Online Safety Tips for Summer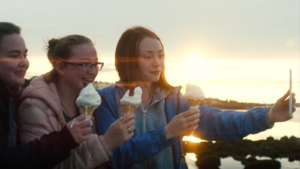 During the summer holidays children and teenagers may spend more time online connecting with their friends, playing games, sharing videos and to be entertained.
Help your child to have a safe and positive experience, and to strike a healthy balance.
Online Safety Tips for Summer
1. #TalkListenLearn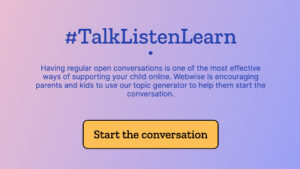 The summer holidays are a great opportunity for parents to engage with their child or teenager's life online. The most effective online safety strategy, regardless of age, is to talk to your child about what they are doing online, to listen to what they have to say, and to learn about the benefits and the challenges they face.
The #TalkListenLearn online Topic Generator is a really effective way for families to sit down together and to have a chat about the online world in a fun, non-judgemental, way!
2. Friendships online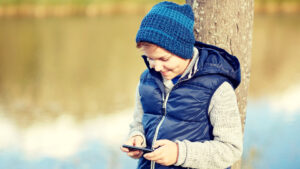 During the summer holidays, young people may want to stay in touch with their friends through social media or online games. Ask your child about the websites and apps they use, and encourage them to review the privacy settings on the services they use so that they are only sharing information with people they trust. If your child or teen is using an app or game you are not familiar with, our Explainer Guides for parents will keep you up-to-date on how many popular platforms work, why children like them, and what risks to look out for.
The Internet is a great way to stay connected with their friends, but children may also use it as a way to broaden their circle of friends and to connect with people who have shared interests and hobbies.
These Talking Points are good starting point for parents to discuss some important issues around making friends online.
3. Striking a healthy balance.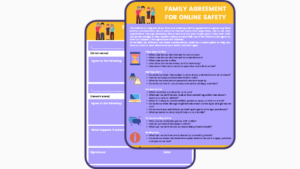 From connecting with friends to gaming or watching videos, with more free time during the summer months children and teens may spend more time online and managing screen time can be a common concern for parents.
How much is too much? Unfortunately, there is no magic number. Children use the Internet and devices for lots of different reasons – to learn, to play, and to socialise. It is important to remember that children often welcome time-off from social media and games, so agree a clear set of rules about technology use in the home. This simple Family Agreement template is a useful way of starting the conversation, agreeing on the rules together, and striking a healthy balance!
4. Sharing online.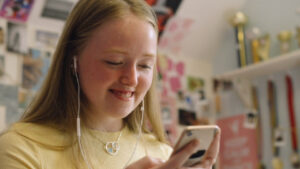 Lots of activities happen during the summer holidays and it can be important to young people to share these with their friends online. It's a good time to have a chat about what they think is ok to share, and remind them that anything that appears online can be shared regardless of the privacy settings they are using.
Many young people carefully curate their online lives, can place a lot of value on the interactions they have, but it can also create unrealistic benchmarks to compare their own lives with. These Talking Points for parents are a great starting point to chat to your teen about positive self-esteem online.
5. Be Kind Online!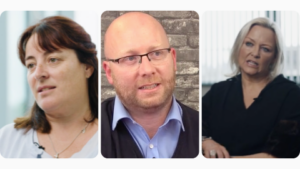 Promote self-confidence, respect for others, and the importance of being a good friend online. Reassure your child that you are there to help and support them if they encounter something that bothers them online. The Webwise Parents' Hub has videos from experts in parenting, technology, education and psychology who provide practical tips and advice about talking to your child or teenager about respectful online communication, and what to do if something goes wrong online.
6. Lead by example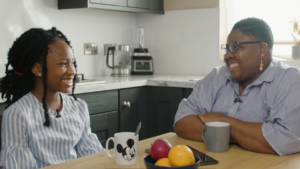 Leading by example is one of the most powerful ways to influence your child's behaviour. If you have agreed rules as a family, it is important that you model good behaviour and follow these yourself! For example, the summer holidays can be a great time for making memories and if you want your child to only post photos online when they have permission from the people in it, then set a good example by asking permission from your child before posting pictures of them online.
Additional Information:
Webwise Parents' Hub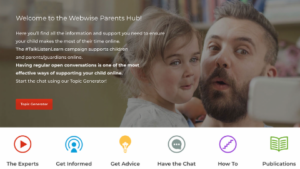 For more advice, information and resources on important online safety topics visit the Webwise Parents Hub.
Free Resources

Parents Guide to a Better Internet: This booklet will help parents to help their children have a positive experience when they are online. It provides information, advice and conversation starters about the benefits and risks they need to be aware of when using the internet. Topics explored in the guide include cyberbullying, screen time, sexting, social media and online pornography.
Download your copy for free A Parents Guide to a Better Internet – Updated 2021.

Online Safety Tips for Parents: The leaflet has useful tips for parent to ensure that their children have a positive experience online. It includes advice on having an open and ongoing conversation, agree rules, and leading by example.
Download your copy for free Parents Online Safety Checklist

Talking Points for Parents: Nobody understands the online world of children and teenagers better than their fellow young people. Based on their own online experiences, these Talking Points have been created by 35 members of our youth panel in consultation with over 140 students from across Ireland to help parents approach the conversation in a way that will encourage your child or teen to open up about their life online!