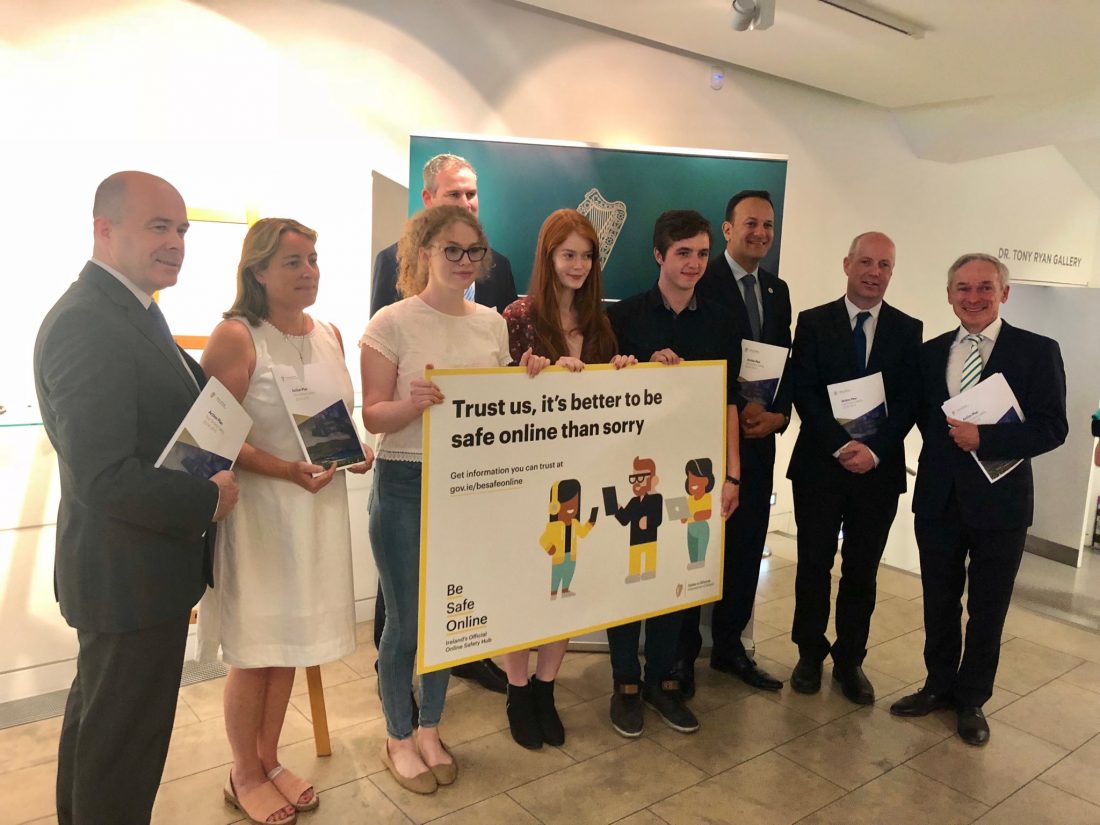 Taoiseach launches Government's Action Plan for Online Safety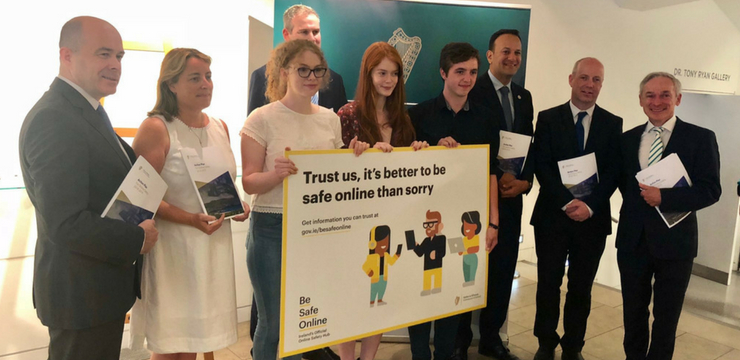 The Taoiseach Leo Varadkar TD was today (Wednesday) joined by a number of Government Ministers to launch the Government's Action Plan for Online Safety.
It's the first plan of its kind in Ireland and was drawn up following engagement with a wide range of stakeholders, including at the Open Policy Debate held in March, and the recent report of the Joint Oireachtas Committee on Children and Youth Affairs.
The actions contained in the plan cut across six Government Departments – underlying the range and breadth of the issues involved – Communications, Climate Action and Environment; Education and Skills; Justice and Equality; Children and Youth Affairs; Health and Business Enterprise and Innovation. The plan is based around 5 goals; Online Safety for All; Better Supports; Stronger Protections; Influencing Policy and Building Our Understanding.
Through this Action Plan the Government will work with stakeholders to implement actions, over an 18 month period, that are achievable and which will have the greatest impact on online safety for everyone in Ireland. Key actions include:
· A new National Advisory Council on Online Safety, chaired by Minister of State Kyne, to provide advice to Government on online safety policy issues with stakeholder input and engagement
· Legislation for new criminal offences with the support of the Oireachtas
· A national communications campaign and single identity – Be Safe Online – with key online safety messages targeted at specific groups, including children and young people; parents, guardians and teachers
· The creation of a single online access point on www.gov.ie/besafeonline through which all available Online Safety resources can be accessed
· A coherent and united policy approach across Government through the establishment of a new Sponsors Group structure, chaired by the Department of Education and Skills.
Speaking at the launch the Taoiseach said: "The internet has transformed our lives. It allows us to connect with loved ones in an instant or find information on pretty much anything. However, it's important to acknowledge that illegal and harmful content can be encountered easily online.
"While the State has a role to play in improving online safety it cannot act alone. Individuals, parents, educators, industry and law enforcement all have roles to play in making the internet a safer place. There's an enormous variation in the types of illegal content and harmful activity online – from serious criminal content to online bullying. The Action Plan being launched today will draw together these various stakeholders to improve online safety for everyone."
The Minister for Communications, Climate Action, and Environment, Denis Naughten T.D., said: "The publication of today's plan is the culmination of a process which began with the Open Policy Debate in March which I hosted in cooperation with five Cabinet colleagues and which was officially opened by An Taoiseach. The Action Plan is a continuation of this whole of Government approach to Online Safety."
"The digital world is full of wonderful opportunities, but it also combines anonymity and distance too easily. To effectively respond to these risks and dangers we need to work better together as a Government, along with communities, parents and providers. This plan provides the structure and the blueprint to do just that."
The Minister for Education and Skills Richard Bruton said: "New technology is revolutionising our world bringing with it fantastic opportunities but also challenges. We have an important role in equipping our citizens, in particular, our children, with skills to negotiate life in a fast-changing 21st century and working together raise awareness to the benefits of new technology while safeguarding our children online."
Minister of State at the Department of Communications with responsibility for digital development Sean Kyne said: "I am delighted to be taking on the role of Chairperson of the National Advisory Council on Online Safety as outlined in the Action Plan. As Minister for Digital Development, I am very conscious of how technology can be transformative for business and can open up new possibilities in almost every sector. In order to ensure that we keep our citizens safe, we need to engage with the stakeholders who have expert knowledge of the risks which the online world presents, whether they be industry, academics or NGOs. I look forward to beginning this extremely important work."