HTML Heroes – 3rd & 4th Class Additional Lessons.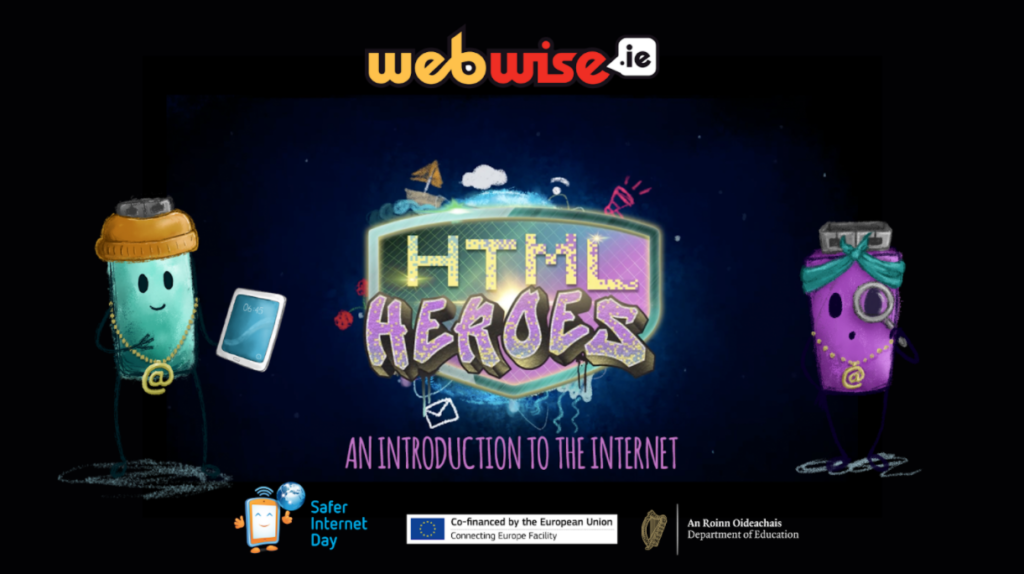 Teacher Information
BEFORE BEGINNING THE HTML HEROES PROGRAMME, READ THE TEACHER INFORMATION BEFORE EACH LESSON.
Some preparation work is required before each lesson. 
THE FOLLOWING ARE A FEW IMPORTANT STEPS WE RECOMMEND TAKING BEFORE YOU BEGIN THE HTML HEROES PROGRAMME:
SCHOOL POLICIES
Teachers should familiarise themselves with the relevant school policies including; Acceptable Use Policy, Anti-Bullying Policy, Bring Your Own Device (BYOD) Policy, Child Safeguarding Statement, Code of Behaviour, Privacy/GDPR Policy, etc. Be aware of all the supports available to you and to the pupils in your school. It is important to be well informed on the school's relevant policies.
ANTI-BULLYING PROCEDURES
All schools are required to formally adopt and implement an Anti-Bullying Policy that fully complies with the requirements of the Anti-Bullying Procedures. Before beginning the HTML Heroes Programme, familiarise yourself with the school's Anti-Bullying Policy and make pupils aware of the school's procedures as appropriate.
DISCUSSING ONLINE ACTIVITIES 
Tips for Discussion and Exploration of the HTML Heroes Programme 
Children's engagement with digital media and technologies will vary from pupil to pupil and families will have different rules in place. For example, some children will have more experience of playing online or using devices to watch videos online. It is important that the discussions in these lessons focus on online activities, rather than on specific online services. Try to focus discussions on the needs that motivate pupils' internet use and not the tools they use to achieve these goals.
Please be mindful that some of the children in the group may be playing games online or have an interest in using social media messaging and sharing apps for the first time. Some may be haggling with their parents for permission to do this. Your words may be brought home and used as part of these negotiations. In this context, it's better to talk about "playing online" than "using Roblox or Fortnite".
TEACHERS ARE ADVISED TO ASCERTAIN WHAT THE PUPILS LEVELS OF ENGAGEMENT WITH VARIOUS ONLINE TOOLS ARE AND TO ADAPT THE DELIVERY OF THE RESOURCE ACCORDINGLY.
For example, a school might survey teachers, parents and/or pupils to find out if they play online games or use messaging apps. Teachers can select from relevant lessons, stories and activities within the programme to best suit the needs of the class based on their engagement with digital technology.
AGE RESTRICTIONS ONLINE – WHAT DO I NEED TO KNOW?
Most social media platforms and services have a minimum age requirement; for the majority of these services, it is 13 years old and some are set at 16 (WhatsApp). Therefore technically, children under the age of 13 should not have a social media account.
However most social media platforms do not have robust age-verifications in place, making it easy for children to sign-up.
Under the new E.U General Data Protection Regulation (GDPR), Ireland has now set the Digital Age of Consent to 16 years old. This is the age at which children can legally consent to companies/organisations processing their personal data or information for example when you sign up to an online platform or social media account. For children under the age of 16, consent must be given/authorised by the parent or guardian of the child. For the purposes of data collection, teenagers between the age of 13 and 16 years old must have parental permission to sign-up to social media services.
Age restrictions on online games vary, although most online games have a PEGI Rating. Age ratings are systems used to ensure that entertainment content, such as games, and also films, tv shows or mobile apps, is clearly labelled with a minimum age recommendation based on the content they have. These age ratings provide guidance to consumers, parents in particular, to help them decide whether or not to buy a particular product for a child.
There is no age restriction for watching videos on YouTube, but users need to be 13 or older to have their own YouTube account (enabling them to subscribe to other channels, like videos, post comments, share their own content and flag inappropriate content). It is recommended that any internet use for young children is supervised and child friendly sites are used. We advise children to wait until the required age before joining any service. Parents should be aware of age restrictions and also have an important role to play to help prepare their children to go online.
EMBEDDING DIGITAL TECHNOLOGIES
Schools with access to digital devices (e.g. tablets, laptops, cameras) can capture pupils' written responses on discussion activities using a variety of web-based tools and apps (e.g. Google Docs, Microsoft Word, Mentimeter, Kahoot, Flipgrid etc.). They can also use digital voice recording tools (e.g. Vocaroo, Chatterpix, Flipgrid, Anchor, microphone tool on Seesaw etc.) to capture pupils' oral responses. Creative and graphic design digital tools (e.g. Adobe Spark Post, Animaker, Canva etc.) can be used for arts-based activities such as creating posters. Digital content creation tools (e.g. Write Reader, Book Creator, Keynote, Google Slides, Microsoft Powerpoint etc.), provide opportunities for pupils to draft, edit and publish their writing genre work or showcase their understanding of a topic in the format of a multimedia presentation. This is not an exhaustive list but a helpful starting point for teachers using digital tools in the classroom.
Digital technologies can be integrated in many ways and pupils' work can be saved on their digital portfolio platforms as evidence of their knowledge, understanding and engagement.
DIFFERENTIATION
Depending on the nature of the pupil's needs, there may be a need to have dedicated lessons prior to each lesson to decode and demystify the language surrounding each topic along with the new vocabulary being introduced. A vocabulary list of recommended keywords is provided.

It is recommended that pupils have multiple exposures to the keywords, they will need to see, understand and engage with it in a range of contexts and will need to use it and revisit it in varied contexts also. The PDST Vocabulary workshop would be useful for further activities on vocabulary development. It is available to access on the pdst.ie website.

For pupils who struggle with handwriting responses to activities, they could use speech-to-text to dictate their answers or record their responses orally using a microphone tool. Often speech-to-text tools and audio recording tools are inbuilt on apps and online tools.

Avoid putting pressure on individual pupils to read the HTML Heroes short story aloud. Rather encourage pupil choice and support pupils' needs by having them read the story independently, in pairs, as part of a small group or as part of a whole class read aloud.