SID Ambassadors Training Day 2018
On the 10th of January, almost 100 students from around Ireland gathered together for the Safer Internet Day (SID) Training Ambassador Programme in Facebook HQ. These students volunteered or were nominated by their schools, to become Safer Internet Day Ambassadors. The SID Ambassador programme is about reaching out to post-primary students, encouraging and supporting them to address the issue of cyberbullying and other areas in internet safety by leading awareness-raising campaigns in their clubs, schools, and communities. In partnership with the Irish Secondary Schools Students' Union (ISSU), Webwise provided online and offline training to the youth ambassadors to get them involved in Safer Internet Day. The aim is to make Safer Internet Day a success in communities and schools across Ireland.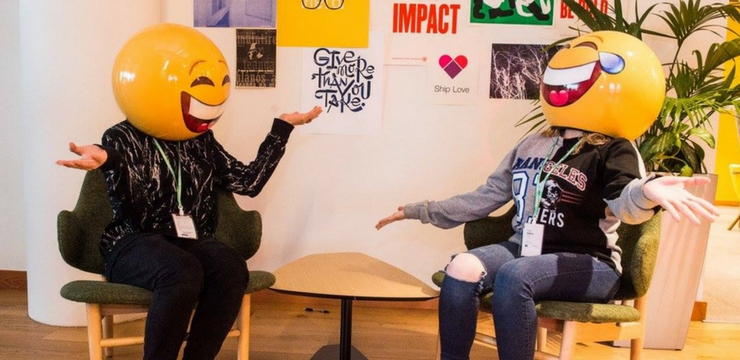 Webwise would like to say a big thank you to Facebook for hosting our event, the teachers and principals who helped make it happen, and of course the students themselves, for coming to the event and bringing with them their ideas and positivity. Additionally, the day wouldn't have run as smoothly without the help of our amazing trainers, made up of some of our Webwise Youth Panel and members of the ISSU (Irish Secondary Students' Union).The trainers were, at all times, upbeat and enthusiastic with their groups and we would like to give them a huge thank you for making it all happen. As a peer-led programme, the trainers were responsible for their own group; doing icebreakers,  mentoring them in activities, and promoting discussion on issues concerning their online lives such as: safe image-sharing, using social media, consent, big data, and online well-being. The training day was a hive of activity, with loads of great campaign ideas generated, we hope these can be brought back to schools and implemented in SID campaigns next month.
Schools can get involved by ordering resources, checking out our easy SID activities and getting their free SID wristbands. Here is what some of our trainers had to say.
---
Training SID Ambassadors: Students are 20% of the population but 100% of the future
By Sean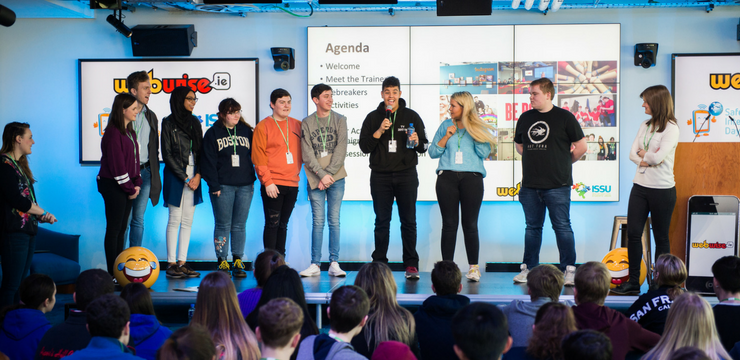 Working with the next generation of internet safety activists has always been something I wanted to do. I've spent the last 6 years on the Webwise youth panel, working alongside some extraordinary people, and now that it's time to move on I wanted a chance to share my knowledge. So when it came to the WebWise team asking me to come and help train the youth of tomorrow on internet safety awareness, my smile was from ear to ear.
Sun Tzu said 'Every battle is won before it is fought', and the information we gave the ambassadors on the 10th of January is going to beat cyberbullying before it starts. We took around 70 students from all around the country, bringing them together at the Facebook HQ Dublin to share ideas in the hope that each and every one of them would bring a little bit of Safer Internet Day back to their own school.
After everyone came arrived, we gathered around and started by introducing the SID trainers to the whole group. After that, we split up into teams of about 10 or so, and in our small groups, we were able to get to know each of the students. It's hard being in a situation like that and even though most people hate them, icebreakers were a great way to get to know each other. This left everyone comfortable and able to speak to the group confidently.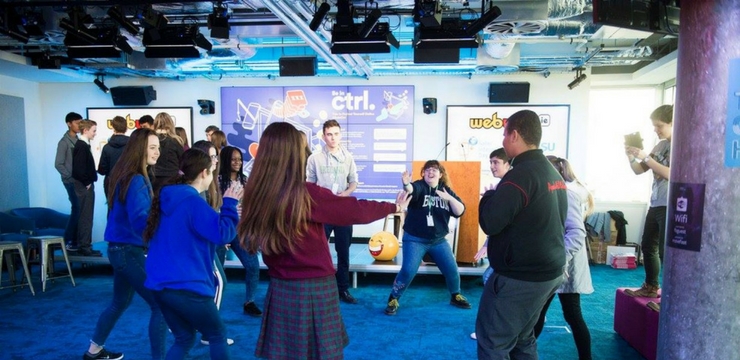 In December, the SID training team sat down and figured out educational activities to run with the students. These ranged from walking debates to a 'conscience alley' where a scenario would be put on one person who would walk through the rest of the group, where those on the left would be 'good thoughts' and the right be 'bad', finishing with the student making a decision on what he or she would have done. Each activity had a point as well as something that could be brought back to the students' school to get everyone involved, everyone enjoyed these.
Finishing the day, after a lovely lunch, we filmed a piece on camera with each student. That will be released soon. Then we discussed what each student would do for Safer Internet Day 2018. I really believe that come the 6th of February, we are going to see brilliant projects led by each and every one of the students we trained.
---
Safer Internet Training Day: Facebook Headquarters 
By Zak 
My name is Zak and I was a Safer Internet Day Trainer at the latest SID Training Day. My role was to facilitate a group of students, who came from all over the country, as we worked together to plan their Safer internet day 2018. These plans will hopefully be brought back to their school/institution. The day started off with us arriving at Facebook HQ and going up to meet the Webwise crew. They reminded us of all the work we did on our own training day and handed out the packs of rotations we would use throughout the day.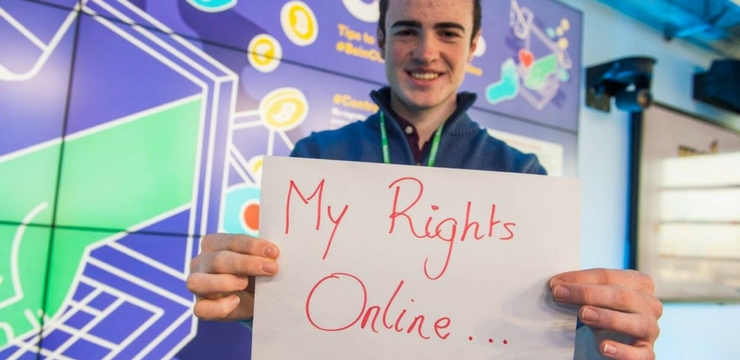 The training kicked off with us being introduced to our groups and then starting with some icebreakers to get our group talking. After this, we worked with the group encouraging them to come up with different ideas on how to use the internet safely. They really got involved in the exercises and seemed to learn a lot. We then broke for lunch and started to set up for filming our BeInCtrl Video. After lunch, we explained to our group that we would be doing this video and we got them to think of how they will be safe online this year. They all came up with amazing ideas. We shot the video and then the group broke up into pairs. We gave them 10 minutes to think of everything they did throughout the day, reflect and think of some more ideas to bring back to help promote safer internet use in their local environments.
The day ended with our group feeling very ready to go back to their schools/institutions and spread the word and put some of the ideas we used into place. I really enjoyed the day. I also learned a lot from working with such an amazing group of people. Some of my favorite parts were getting to know everybody in my group and their interests, seeing the group get so involved in the rotations and really jumping into the work we did. I have always loved working with groups as a facilitator and this just gave me another opportunity to do something I love. Overall being a SID trainer has been one of the best experiences of my life, I have met so many amazing people on my journey as well as learning a lot about not only how to stay safe online, but about how to run events and encourage my peers to get involved.
---
For more reflections on the Safer Internet Day Ambassador Training Day by the trainers, head over to our sister site: saferinternetday.ie