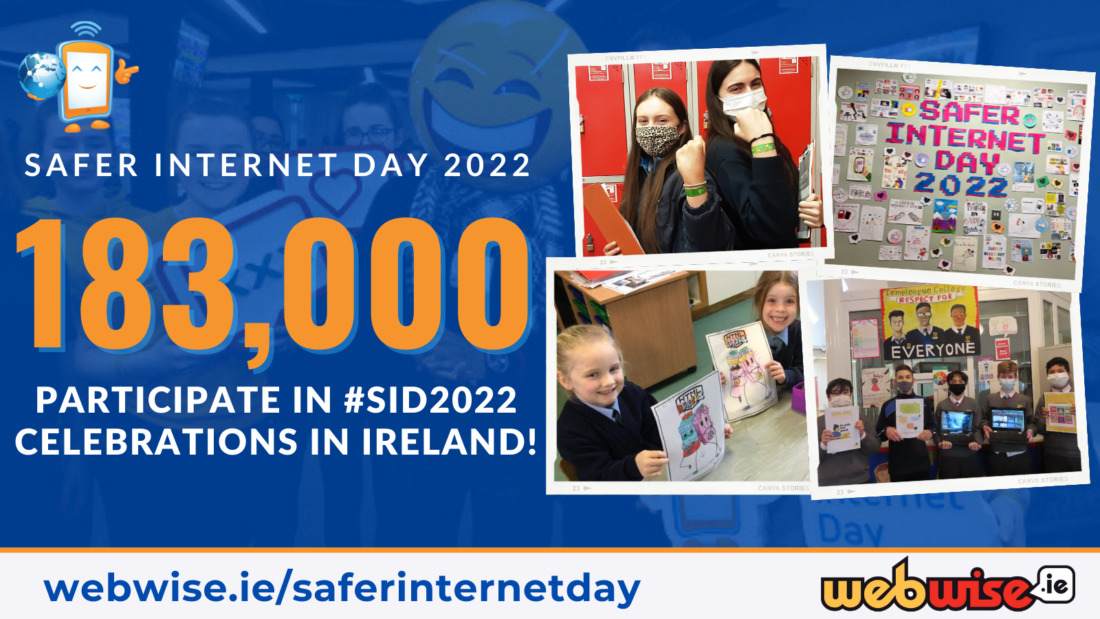 Safer Internet Day in Ireland 2022
More people got involved in Safer Internet Day in Ireland than ever before!
183,000 people participated in almost 750 events registered on the Safer Internet Day in Ireland Event Map – highlighting what they were doing to celebrate Safer Internet Day on Tuesday, February 8th.
Safer Internet Day is celebrated around the world every February, and has become a landmark event in the online safety calendar. In Ireland, there was a really impressive range of activities taking place across the country. Addressing topics such as cyberbullying, image-sharing, privacy, misinformation online, online wellbeing and digital resilience, Safer Internet Day activities inspired a national conversation about empowering people to use the Internet and technology in a safe, responsible and positive way.
Events included lessons, webinars, workshops, making movies and podcasts, writing and performing songs, creating posters, coding, quizzes, presentations – and much more! Uniting thousands of people across Ireland to help create a safer and better internet.
Here are just some of the highlights!
#TalkListenLearn Campaign
For Safer Internet Day 2022, Webwise and the National Parents Council Primary launched the #TalkListenLearn campaign to support children and parents/guardians online.
The campaign raises awareness of the importance of families having regular open conversations about the online world, to help ensure that children and teenagers have a safe and positive experience.
Safer Internet Day 2022: #TalkListenLearn – Supporting Families Online from PDST Technology in Education on Vimeo.
A Safer Internet Day Event included an expert panel discussion to explore and unpack emerging themes from recent research from the National Advisory Council for Online Safety which highlights a gap in perception between children and their parents regarding how children interact with the online environment, the nature of their experiences, both positive and negative, and the nature and prevalence of parental mediation of children's interaction with the online environment.
Moderated by Gavan Reilly (Virgin Media News Political Correspondent), the event included contributions from CEO of the National Parents Council Primary; Áine Lynch, Researcher and Deputy Chair of the National Advisory Council for Online Safety; Professor Brian O'Neill, Child and Adolescent Psychoanalytical Psychotherapist; Dr. Colman Noctor and members of the Webwise Youth Advisory Panel. The discussion also offered potential solutions and recommendations for further exploration.
The #TalkListenLearn campaign is also supported by a suite of new resources including:
A new Topic Generator has also been developed to help families have conversations about online experiences in a fun, non-judgemental way. The new tool provides children and their parents with broad questions about the online world to help them to talk about the opportunities it provides, the challenges that may have to be navigated, and how to seek support. Access the Topic Generator here.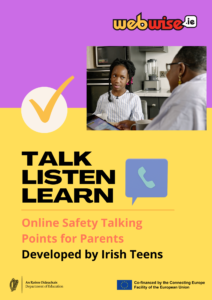 Nobody understands the online world of children and teenagers better than their fellow young people!
Based on their own online experiences, these Talking Points have been created by 35 members of our youth panel in consultation with over 140 students from across Ireland to help parents approach the conversation in a way that will encourage their child or teen to open up about their life online!
Download the #TalkListenLearn Online Safety Talking Points for Parents.
A Parent Toolkit with advice and information, an updated online safety booklet for parents "A Parents' Guide to a Better Internet" which includes information on emerging topics including the influence of online algorithms, misinformation online, and developing critical thinking skills. Visit the TalkListenLearn Campaign page for more information and resources.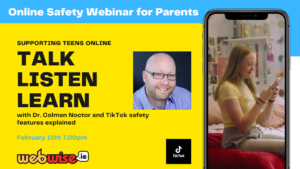 The #TalkListenLearn campaign also provided a free Online Safety Webinar for Parents.
Dr. Colman Noctor (Child and Adolescent Psychoanalytical Psychotherapist;) discussed the opportunities and risks for teens online, offers practical advice to support parents and answers some frequently asked questions. The TikTok Safety team also provided a short explainer on how TikTok works and some key safety features. Finally Webwise provided an overview of free resources and supports for parents.
The event can be viewed again online.
The #TalkListenLearn Campaign – TikTok
High profile TikTokers Boni Odoemene, Mammy Banter, and TeachwithTadgh made TikTok videos to raise awareness of the #TalkListenLearn key messages, and to highlight the supports available. Check them out!
Young people lead the way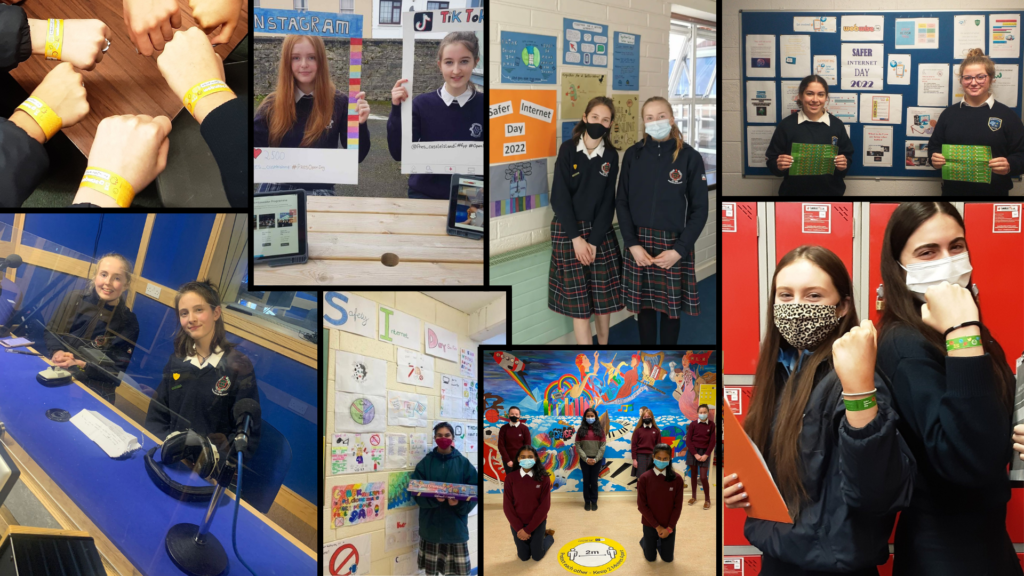 140 students from schools across Ireland took part in this year's Webwise SID Ambassador Programme. The training programme took place online again this year, and over the course of 5 training sessions the peer-led programme equipped students with the skills and knowledge to lead their own online safety campaigns in their schools and communities.
The students got involved in the programme because they wanted to address online safety topics and issues with their peers, and to take positive actions to make a difference.
The young people led an incredible range of inventive online safety and digital literacy initiatives to address topics including cyberbullying, big data, false information, image-sharing and consent, and privacy, to raise awareness and support their peers, parents, and the wider community.
For anyone who missed our Student Ambassadors discussing their #SID2022 campaign on @kclr96fm👏🎬🎙️ @Webwise_Ireland @PDST_TechinEd The Way It Is; We hear from students of Presentation Secondary school in Kilkenny by KCLR96FM via #soundcloud https://t.co/TAegqQBcqc

— Presentation Secondary, Kilkenny (@PresKilkenny) February 9, 2022
The day #ASM's #SID2022 Ambassadors had been waiting for! Congrats to Ava & Elvan on the wonderful range of events that they coordinated within our #SchoolCommunity to promote #OnlineSafety & wellbeing! They certainly put their @Webwise_Ireland training to excellent use! 💙 pic.twitter.com/vLnIK8A1oB

— Ardscoil Mhuire (@ASM_Limerick) February 8, 2022
Having completed their SID Ambassador training with @Webwise_Ireland our TY ambassadors spoke to our 1st year students about being safe online 💻📱#SID2022 @stjosephsrush @ciaranreade @LouiseNiChon pic.twitter.com/rCyt0DgoY8

— Coding Department STJ (@CodingDeptSTJ) February 9, 2022

The Webwise Youth Panel and the SID Ambassadors also participated and provide the youth perspective in several other initiatives. The "Our Digital Lives" Guest Panel Discussion was an event for young people, by young people. They hosted and guided the discussions at the Safer Internet Day event which looked at the positives and the negatives of the digital world, with high-profile guests including Miriam Mullins (TikTok Star); Shane Carthy (Dublin GAA Player); and Dr. Elaine Byrnes (Researcher Psychology – Consent, Sexual Health Educator). "Our Digital Lives' was available for Post-Primary schools to view as part of their Safer Internet Day activities, and can be viewed here.
Safer Internet Day Events around Ireland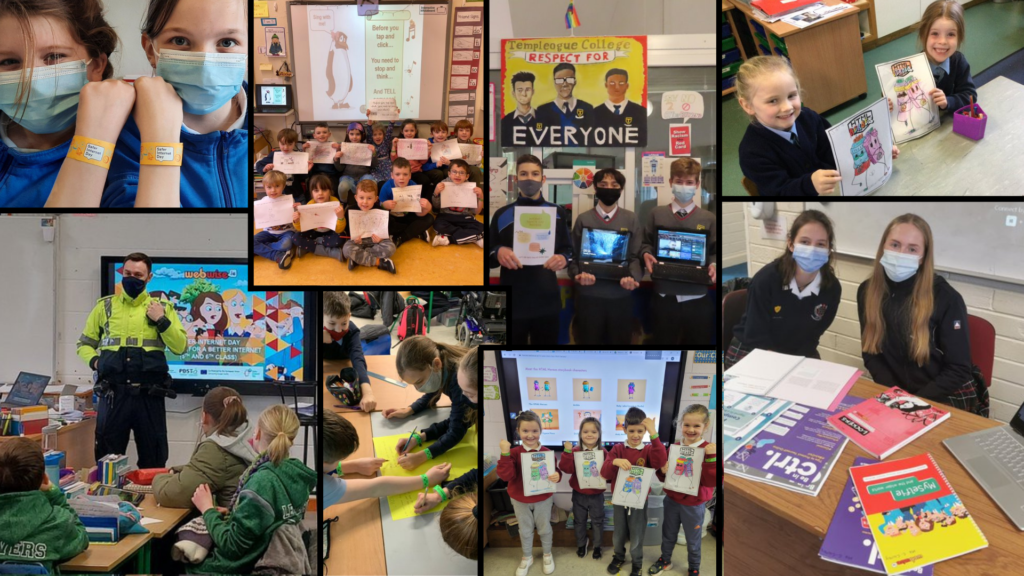 This year, was the biggest ever Safer Internet Day celebration in Ireland, with schools, clubs and organisations from all over the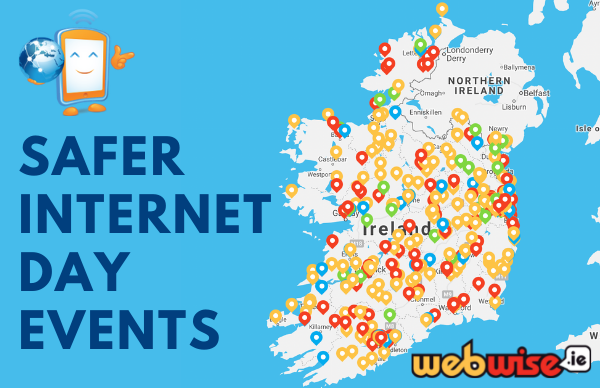 country registering events and activities for #SID2022.
Addressing important topics such as cyberbullying and respectful communication, privacy, online reputation and digital footprints, online wellbeing and digital resilience, and image-sharing and consent.
A huge amount effort and creativity was involved in the hundreds of events that took place around Ireland – here are just some of the highlights!
St. Angela's NS, Co. Mayo
Pupils learnt about staying safe online, welcomed the Gardaí for a chat and 3rd class create this fantastic poem with tips about how to stay safe online!
The girls in 3rd class @stangelasns marked #SaferInternetDay2022 by composing a poem! #SID2022 @Webwise_Ireland @thecontel @MayoLibrary @DMiMayo @radiomidwest @Schools_Digital pic.twitter.com/2spB5GZGim

— St Angela's NS (@stangelasns) February 8, 2022
Skerries Community College, Co. Dublin
For Safer Internet Day, coding students created games around internet safety, there was a digital take over of the school social media accounts to share digital safety facts, they ran a poster competition to raise awareness and held a virtual information session for parents.
Do you know what Phishing is? Take note below and avoid scammers online! #SID2022 #SaferInternetDay #DaysofDigitalSafety @webwise_ireland @ddletb @Skerries pic.twitter.com/ITVFbGv1kd

— Skerries CC (@Skerries_CC) February 8, 2022
Clonlara NS, Co. Clare
Using the HTML Heroes Programme, students learn about how to be safe and responsible online.
Ms Maguire's class learned all about internet safety today and designed their HTML hero posters! #SID2022 @Webwise_Ireland pic.twitter.com/6zuKA5k63W

— Scoil Seanáin Naofa, Clonlara (@ClonlaraNS) February 8, 2022
Presentation Secondary School Waterford
Lots of activities took place for Safer Internet Day, including the launch of a new Digital Charter, a talk from Gardai, learning about Coco's Law and chatting to Jackie Fox!
Meanwhile all our TYs, 5th and 6th Years have been studying Coco's Law and got the opportunity to listen to an interview with 'Coco's' Mum Jackie Fox who spoke to our own past pupil @TrishaunaA @shonadotie @ceist1 @Webwise_Ireland pic.twitter.com/FuqkNwxehi

— Presentation Secondary Waterford (@PresWaterford) February 7, 2022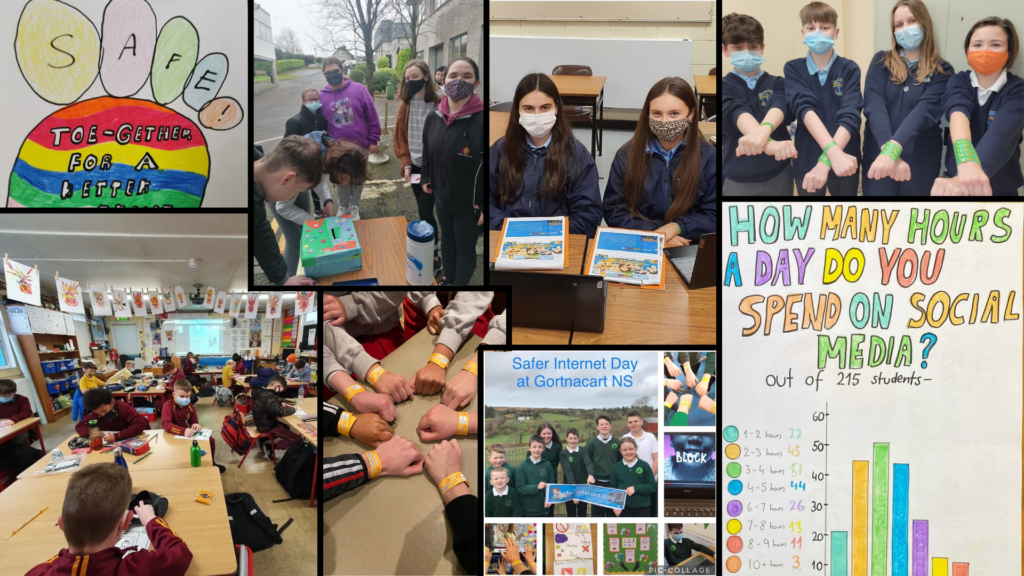 Safer Internet Day Supporters in Ireland
This year more organisations than ever supported Safer Internet Day, and played a creating a better and safer internet for all users, especially for children and young people.
Media Literacy Ireland, Broadcasting Authority of Ireland, National Adult Literacy Agency (NALA), Learning Waves Skillnet, National Youth Organisation of Ireland, Gaelic Players Association, Pieta House, Microsoft Education Ireland and TikTok were among the many organisations who supported Safer Internet Day in Ireland, and encouraged people to join in the celebrations.