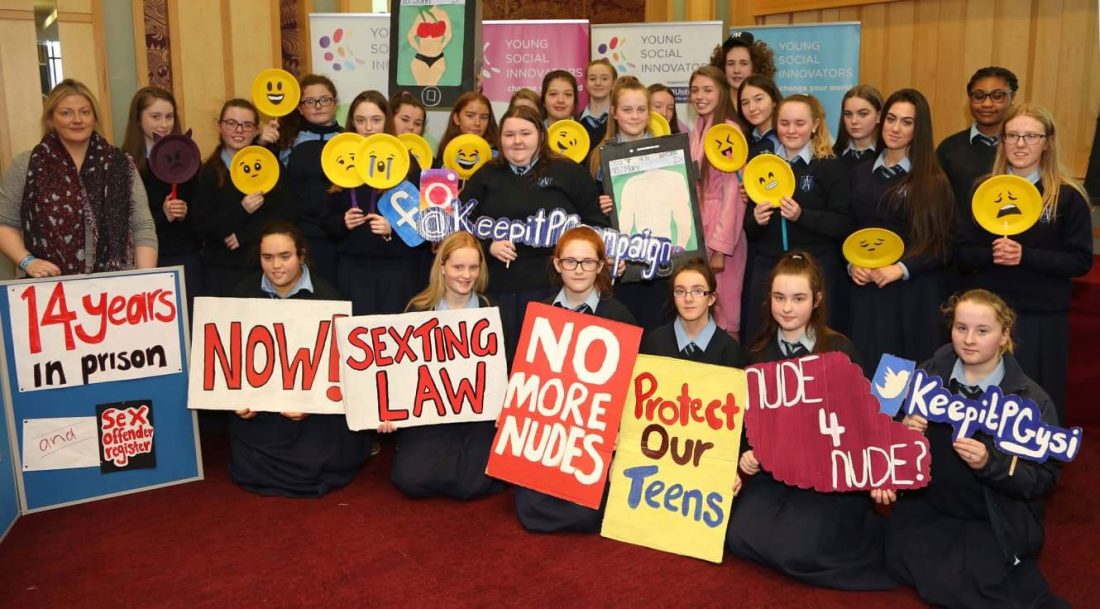 Lockers Campaign Inspiration #KeepingitPG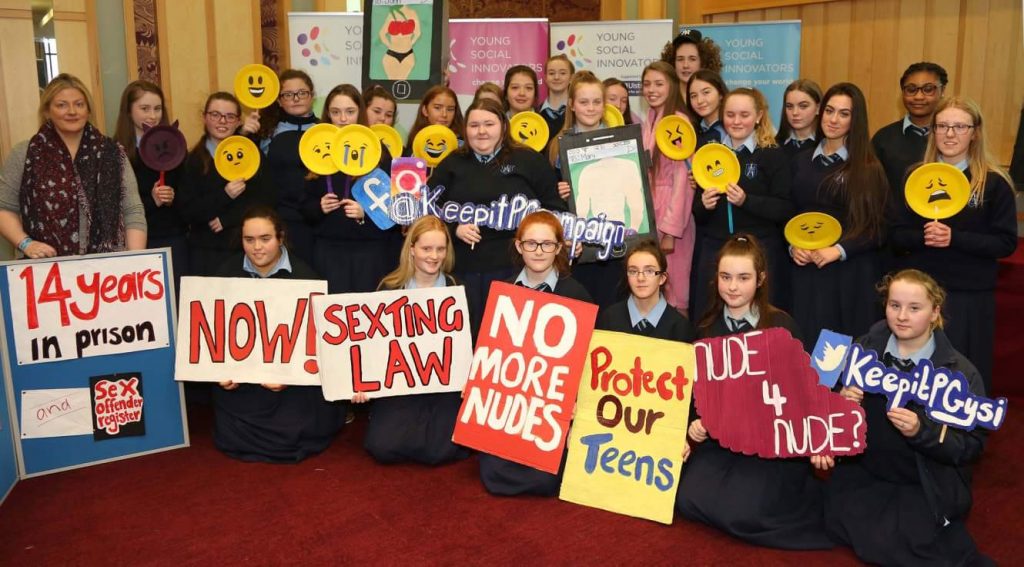 We are a group of Transition Year students from Ardscoil Mhuire, Corbally, Limerick.  As part of our Young Social Innovators project, we are raising awareness about sexting between those under the age of seventeen, and highlighting the significant social and legal consequences that these actions may have for those involved. We also hope to make teenagers aware that sexting is a very serious issue; that this teenage mistake may have serious, and lifelong, legal implications.
While discussing ideas for our YSI project, we decided to tackle an issue that affected teenagers in our local area, in order to use our own experiences to create something useful for our peers. We distributed surveys asking local teenagers what issues they faced in society, we handed these out to the students in our school, and also made an effort to get feedback from the local boys' school. We were shocked to find out that sexting was such a widespread problem among secondary school students and was an issue for all age groups.
After much brainstorming, we decided to launch our #keepitpg campaign to highlight the issue of teenage sexting and its consequences. We thought about the platforms we could use to spread our message that would enable us to be heard by an audience greater than just our school community. Our social media profiles were launched, and we continue to use them as an incredible resource to project our ideas and to engage with both the public and experts in the field. For those interested, our accounts can be found on Facebook and Instagram: @keepitpgcampaign, and on Twitter and Snapchat: @keepitpgysi! These social media profiles were extremely successful, but we were aware that not everybody has access to these platforms and thus, we wanted to find a way to spread our ideas through a physical, portable, and memorable product too.  As a class, we designed a bookmark that explained sexting and its consequences in a nutshell.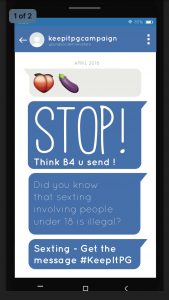 We soon realised that funding would be an issue if we wanted to produce high-quality bookmarks. This is why we were thrilled to hear about YSI Den, a program that allows YSI groups to propose their ideas and apply for funding and sponsorship from four 'dragons'. The YSI Den is modeled on the popular television programme Dragons Den, where budding entrepreneurs get three minutes to pitch their business ideas to five multi-millionaires who are willing to invest their own cash to kick-start the businesses. We attended the YSI Den in The Old Cork Waterworks Museum and were lucky enough to have been granted €427, all of the money we needed to get our bookmarks printed locally. We are currently in the process of having the bookmarks professionally formatted and printed for distribution around our local community!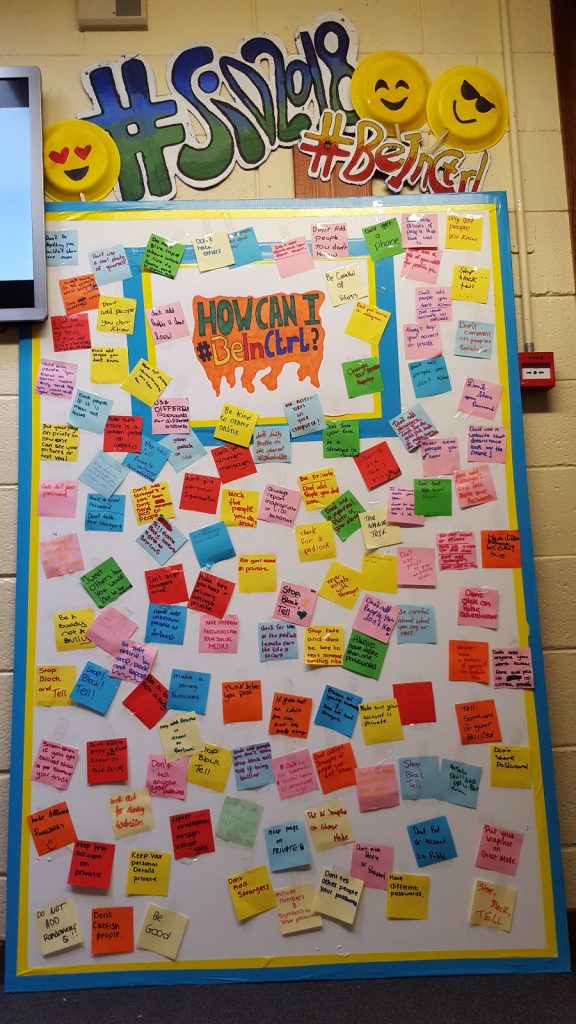 On the 6th of February this year, our school held a showcase celebrating Safer Internet Day 2018 under the leadership of our Webwise Safer Internet Day Ambassador, Abi Dowling. We saw this as the perfect opportunity to promote our project hashtag, #keepitPG, and an opportunity to incorporate our campaign into our schools' wider Safer Internet Day activities. In the lead up to the event, and on the day, we assisted our SID Ambassador in setting up the hall which featured many different information stands, games, and activities based on varying aspects of online safety. Some of the activities included were: jigsaws with internet safety tips on them, an Instagram photo booth, a #BeInCtrl board and our infamous Nana Test!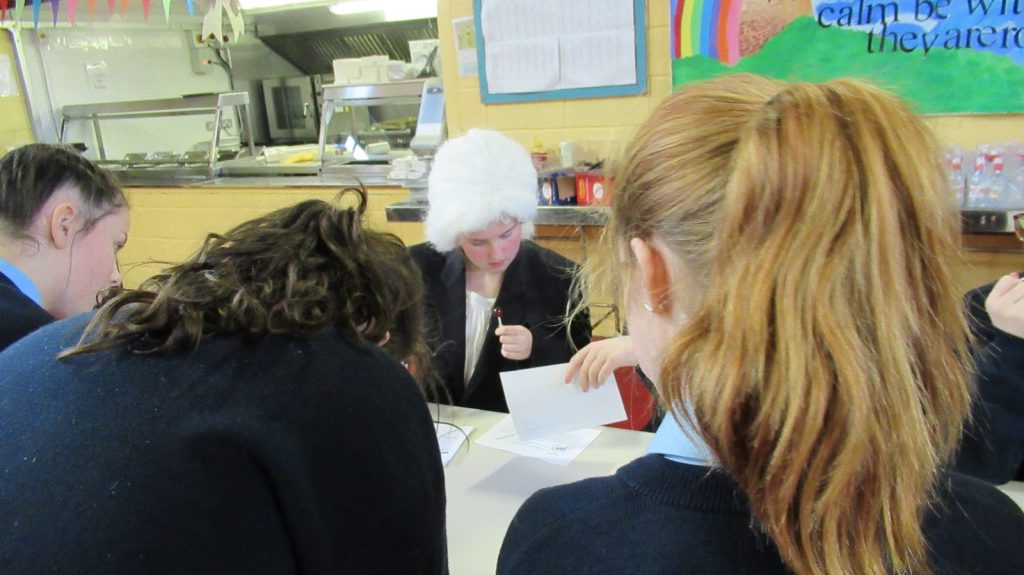 For the #BeInCtrl board, we asked students to write internet safety tips on a sticky note and stick it on a decorated board. The emphasis here was on promoting responsible and reflective internet use. We also used one of Webwise's activities called the Nana Test. For this activity, we made a checklist based on the idea that you should never post anything online that you wouldn't want your nana to see. The students checked off questions about their online activities and were either passed or failed by our very own 'Nana'! Nana certainly gave our fellow students something to think about the next time they log on! Needless to say, Safer Internet Day was a huge success in our school and got our entire school community talking about responsible and safe internet use! We are already planning our #SID2019 event and some of us have even signed up as Webwise Ambassadors already!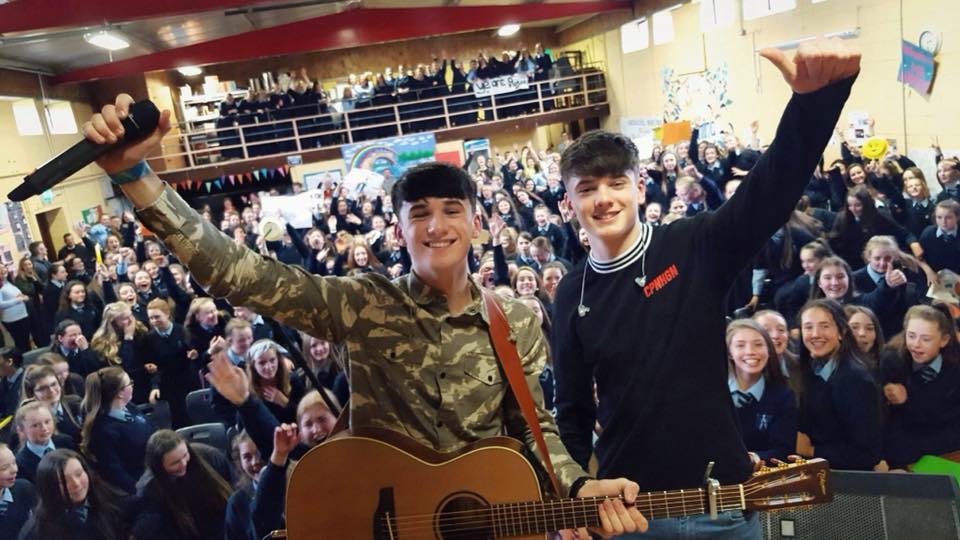 Webwise was running a photo competition to celebrate Safer Internet Day, where the winner showed to award a school for engaging with their latest resource and campaign #BeInCtrl. By using and engaging with their campaign hashtag #BeInCtrl on our social media accounts, we had entered the competition and we were delighted (and shocked) when we heard that we had won!  There was even greater excitement around the school when we heard that our prize was an exclusive concert by the X Factor's Sean and Conor Price at our school!
The concert was amazing and the whole school had an incredible time! The atmosphere around the school was electric and Sean and Conor blew us away with their performance. We were also very grateful to Webwise thatthe prize included an exclusive meet and greet with Sean and Conor. Read more about the concert here. Members of both teams were also interviewed by the Webwise team on our activities for Safer Internet Day. It was great to get recognition for all of the team's hard work and it really motivated us to continue our work on internet safety for next year! Sean and Conor were eager to endorse our project too, and as a result, online safety has never been as cool in our school!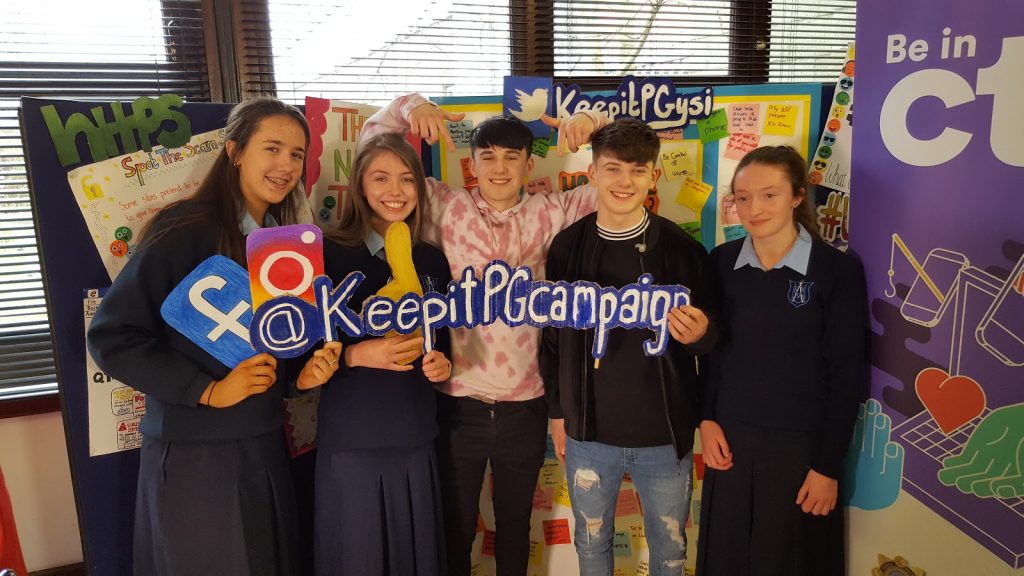 The next event for our campaign was our YSI Speakout session in Galway. We were given the opportunity to create a two-minute performance highlighting our campaign objectives. Our performance was based around 'John' and 'Mary', two teenagers who decided to send each other nude photographs on Snapchat. We practiced for weeks beforehand and made sure that our routine was very realistic and represented what really does happen between teens on a daily basis. Although we were nervous, the performance ran smoothly and we were delighted by how the audience got behind us by singing along to our music and clapping enthusiastically!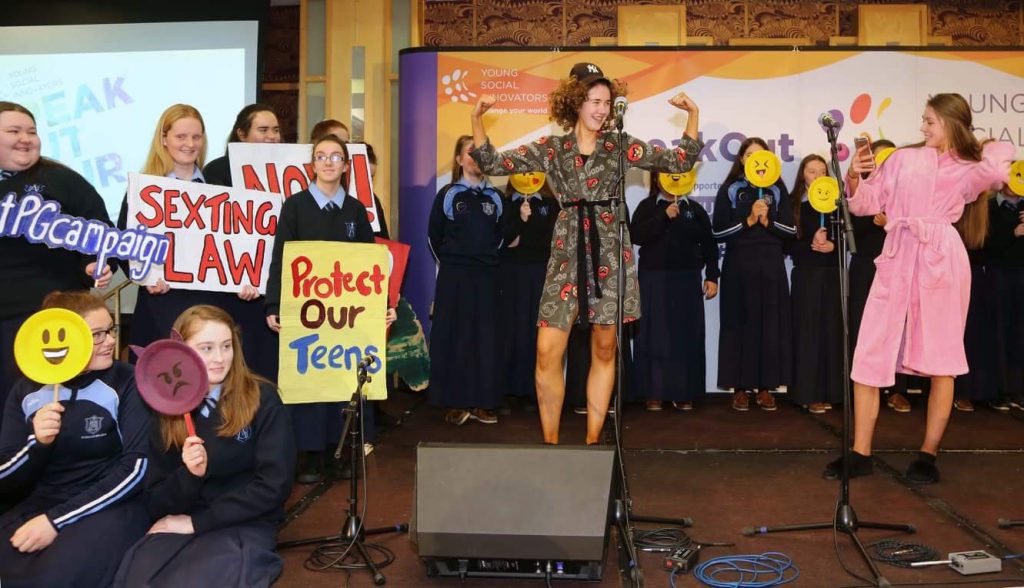 Recently, we were delighted to have been invited to the first ever Webwise Youth Advisory Panel. Six representatives from the #KeepitPG team travelled to Dublin with our Webwise Youth Panellist, and her team, for a meeting with Webwise to discuss our ideas and to receive support on how to promote safer internet use in our local area. We found the meeting extremely helpful and we learned lots from the Webwise organisers and the other students from around Ireland too.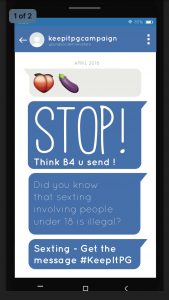 We have many plans and goals for our campaign.  We are going to invite local politician, and former Minister for Education, Jan O'Sullivan to our school to officially launch our bookmarks and campaign. We are also researching other organisations and initiatives that we can get involved with that will give us the opportunity to spread our campaign to more people around the world! Now that we have so many Webwise Ambassadors on our team, it only makes sense to hit the ground running in August, form a committee and tackle online safety all year round!  We are excited for the challenge!
One thing's for sure: 2018/19 will be the year of #KeepitPG in our school!