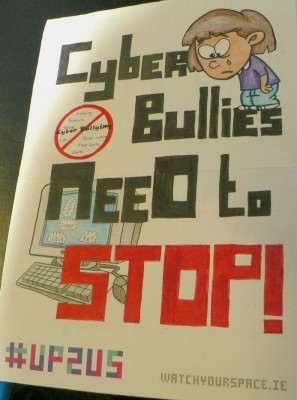 Anti-Cyberbullying Month
The Student Council in Coláiste Chiaráin, Croom, Co. Limerick decided to take tackling cyberbullying into their own hands. Here Student Council member and Webwise Youth Panellist, Eoin, explains what went on during their Anti-Cyber Bullying month.
Note: Be sure to check out their great video too, especially if you're planning to do the #Up2Us interactive poster activity.
In Colaiste Chiarain, Croom, Co. Limerick we launched our Anti-Cyber Bullying Campaign in coordination with the Webwise Youth Panel initiative. Our Student Council launched the campaign in the school by holding different events throughout the month of April.

Every year in the school was introduced to the concept of trying to stop cyberbullying through the #Up2Us interactive poster packs. The posters were made during religion classes and then were displayed through the classrooms in the school to enforce the message.
As well as the poster packs, every year group had a cinema day where they sat down and watched different videos that brought home the message of combating cyberbullying. The cinema days were followed up by Q&A sessions with the different students and teachers involved in ICT and the campaign in the school, to help get the message across to junior cycle students.
Humour Fit Theatre Group also had a workshop with the students, which again helped get the anti-bullying message across.