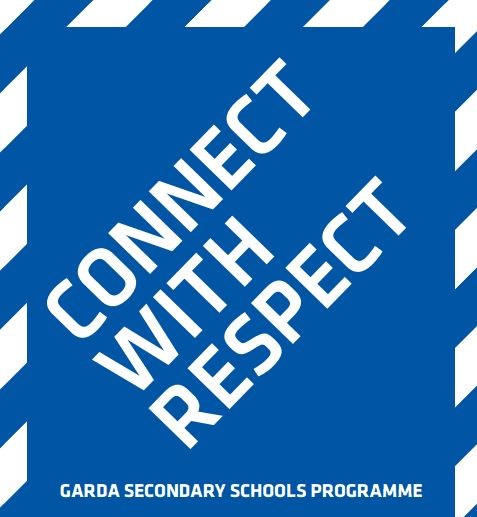 Connect With Respect Programme
The Garda Schools Programme in conjunction with the Department of Education and Skills has designed a lesson plan on internet safety for Junior Cycle post-primary students.
The lesson which includes the "Connect with Respect" pack, addresses the social media element of the personal safety module of the Garda Schools Programme.
The Connect with Respect resource aims to help students in Secondary schools to understand the impact that cyber bullying can have on different people, and to recognise that cyber bullying, is not acceptable.
It aims to help prevent this behaviour from occurring, and to enable people to respond effectively if it does occur. This talk aims to change the attitude of bystanders to make them more likely to intervene positively and effectively in online bullying situations.
The centre piece of this resource is the "Let's Fight It Together" film. It is a short, 7 minute piece based on a composite view of real events developed by Childnet International. It depicts the story of a teenager who becomes the target of bullying via the internet and his mobile phone
Connect With Respect: Curriculum integration
An SPHE programme is most effective when responsibility is shared by parents, teachers, children and relevant members of the community, such as An Garda Síochána. This pack is designed to be used by gardaí visiting Junior Cycle students in post-primary schools throughout the country as part of the SPHE curriculum.
This lesson aims to provide opportunities for reflection and discussion on the effects of cyber-bullying and to enable students to develop responsible decision-making when they witness it taking place. When they have finished this lesson pupils will be able to:
identify the various ways a person can be cyber bullied in and outside school
highlight the detrimental effects of cyber bullying on an individual
identify the consequences of cyber bullying
act safely as a bystander to help prevent cyber bullying
seek help and support when they become aware of cyber bullying
Accessing the Garda Schools Connect with Respect Talks
For information on how to access one of these talks, contact your local garda station, or
Garda Schools Programme
Community Relations
Harcourt Square
Dublin 2
01 6663891