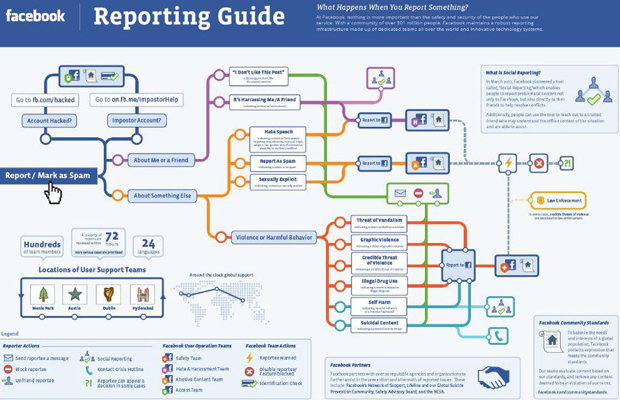 What Happens When I Report a Post on Facebook?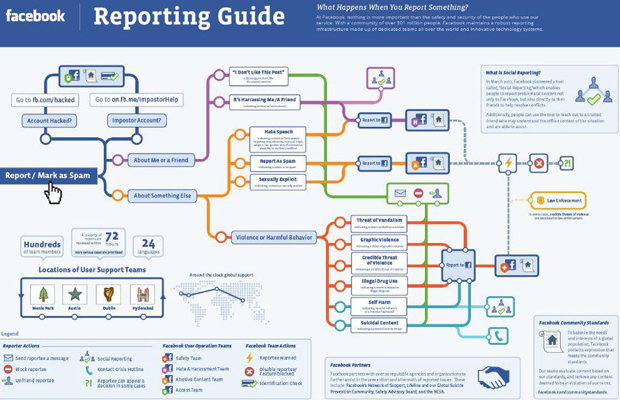 Facebook have produced this snazzy new flyer which outlines what happens when you report a post on the popular social networking site.
At Webwise, we encourage you to teach young people the importance of reporting things online which they feel uncomfortable about.
Whether it be scam merchants, potential predators, cyberbullying, illegal content, pornography or any other threatening or abusive posts, young people can get posts removed by reporting the material to Facebook, and other sites they frequent.
Reporting on Facebook
This graphic, which you can get a close-up of by clicking on the image at the top of the page, gives you some idea of where each report goes on Facebook.
Eventually, as the flyer shows, reporting a post can lead to law enforcement officials.
It could provide an interesting tool for an ICT-related class for a teacher or for parents who want to sit down with their child to promote reporting.
Often, bullies set up fake Facebook pages to bully someone as they think they cannot be traced
However, these profiles can be reported.
How do I report a post on Facebook?
First, got to the profile timeline and click on the star sign. There you will see an option to Report/Block
Once you click on that, you must fill in a reason for reporting the profile
And by clicking continue once you have filled out the options, you have successfully reported the profile and Facebook will take it from there.
Someone who does not have an account can find out information about submit an inquiry here.
Please copy and send the link below to anyone who does not have a Facebook account and needs to report a violation on the site