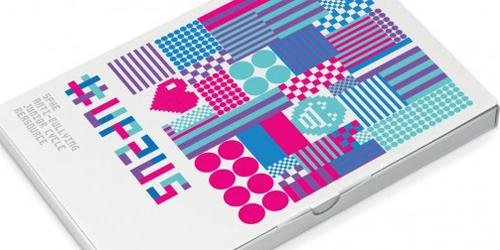 Get the SID2014 Anti-Bullying Kit
The #Up2Us Anti-Bullying Kit is a resource for Junior Cycle SPHE teachers and students.
The aim of the Kit is to empower post-primary students to address bullying, in particular cyber bullying, in their local communities.
The resource includes the #Up2Us Teachers' Handbook which has ten lessons that cover the anti-bullying section of the new Junior Cycle SPHE course.
Anti-Bullying Kit
The lessons attempt to engage students on cyber bullying using active and engaging methodologies and updated, relevant information.
Through discussion and small-group activities, this programme promotes positive actions and behaviours which should help students to create an anti-cyber bullying environment on a school-wide level and in the wider world.
The second part of the #Up2Us Anti-Bullying Kit is the interactive poster making activity, which is one of the ways in which students can tackle cyber bullying.
[youtube id="dubA2vhIlrg"]
The interactive poster activity is a fun and easy way of spreading anti-bullying messages while making positive, creative and innovative use of technology.
Using the poster grids, stickers and cut-out shapes provided in the Kit young people can design colourful posters with anti-bullying slogans.
The idea is that these posters will then be made interactive when students share a photograph of their poster on social media.
This will contribute to creating a positive anti-bullying culture on social media sites using messages generated by young people and disseminated amongst their peers.
Further interactivity of the posters can be explored through the creation of videos using stop-motion apps, mobile phones and with the help of the #Up2Us Student Guide included in the Kit.
When students have made their posters or taken some other anti-bullying action they can then enter the #Up2Us Anti-Bullying Contest, where the top prize is a Mini Music Festival for the group that does the most to promote anti-bullying attitudes.