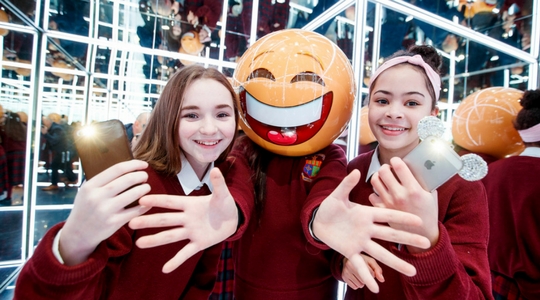 Get Involved in Safer Internet Day 2018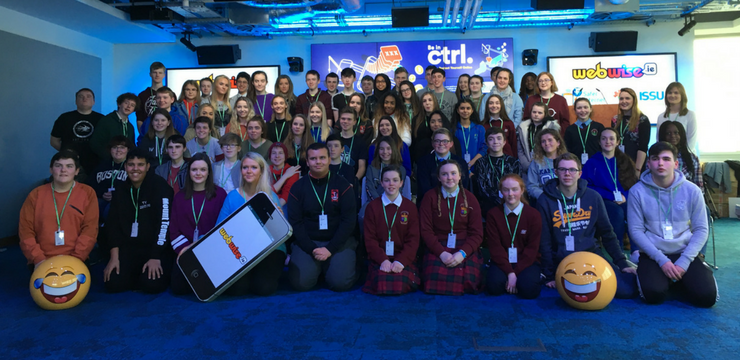 Safer Internet Day (SID) is an EU wide initiative to promote a safer internet for all users, especially young people. It is promoted in Ireland by the PDST Technology in Education and Webwise. The Theme for Safer Internet Day 2018 is "Create, connect and share respect: A better internet starts with you". Safer Internet Day 2018 will be celebrated on Tuesday, February 6th. Over 70,000 young people across Ireland joined the celebrations last year. Help make 2018 even bigger and better by supporting SID 2018 in your local area!
Watch our Safer Internet Day 2017 Highlights video
HOW CAN I GET INVOLVED?
Step by Step Guide to Safer Internet Day 2018
We have put together a step by step guide to a host of great activities you can use to celebrate Safer Internet Day. Don't forget to share your SID Snaps with us using #UP2US.
---
Step 1 Get connected with Safer Internet Day
Keep up to date with all the latest news and activities planned for Safer Internet Day 2018. Check out www.saferinternetday.ie or join us on social media: Facebook facebook.com/Webwise, Instagram WebwiseIreland, or Twitter @Webwise_Ireland.
---
Step 2 Plan your activities for Safer Internet Day
There are lots of ideas available on saferinternetday.ie. Here are a list of activities to get you started:
---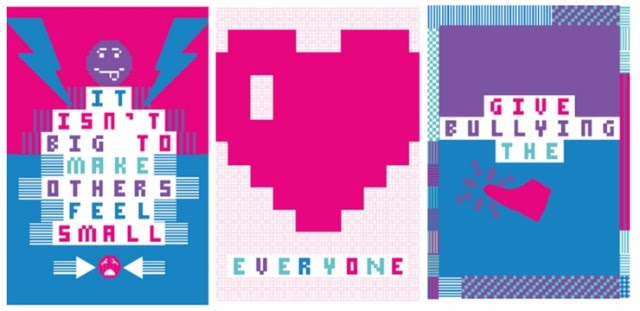 Activity 1 – Positive messages campaign
Counter cyberbullying with a positive messages campaign. Create colourful anti-bullying posters or an uplifting thoughts notice board using the #Up2Us  interactive poster making kit. The #Up2Us handbook, including kit, is available FREE to order or download at www.webwise.ie/teachers/resources/.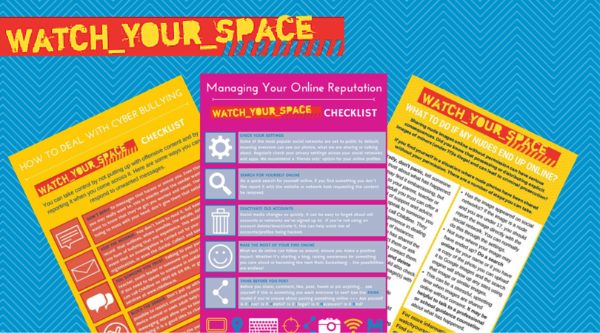 Activity 2 – Do the Check
From managing your online reputation to dealing with cyber-bullying… children can face many different online safety issues. Why not take some time out with your child to go through some safety tips. Our checklists are a great place to start www.watchyourspace.ie/checklists/.
Activity 3 – The Granny Rule: which photos are okay to share?
Have young people take out their phones and have a look at the last photos they took with friends. Then have the students use the Share or Delete checklist (available in the #Up2Us handbook) to help decide if these photos should be shared publicly online. "If you wouldn't show a picture to your granny then it probably shouldn't be online!"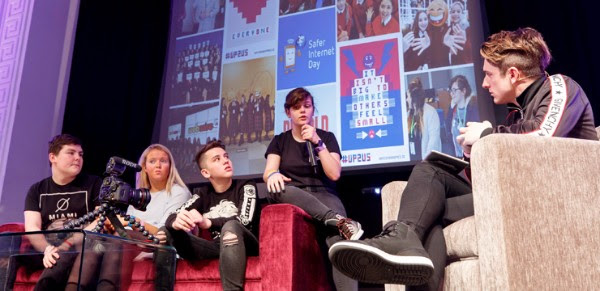 Activity 4 – Debate the issues
Hold a walking debate around issues relating to internet safety and photo sharing. Read out motions and have students show whether they agree or disagree with the statement by standing under the appropriate signs. Here are some suggested motions you could use:
Images shared online are just as permanent as tattoos
The owner of a photo posted online is the person who took it and not the subject of the photo
People should be free to post whatever they decide online
Ask some people to explain why they chose a particular side and give people the freedom to change sides if they are convinced by other people's arguments. We have added two roleplays that can help you explore these issues with your students.
Activity 5 – 5 Ways to protect your profile
RTÉ's Stephen Byrne and Bláthnaid Tracey have 5 quick steps to protect your social media profile. This video can be used in the classroom to lead a discussion on using social media safely. View the video here www.youtube.com/watch?v=XbFIbaOioEg.
Activity 6 – Agree on an Online Code
Split the class into groups, instructing each group to come up with guidelines that encourage responsible photo sharing and prevent cyberbullying. Then have the whole class agree on what should be included in the class code or charter and sign up for it. The MySelfie handbook (containing the Online Code worksheet) is available FREE to order or download at www.webwise.ie/teachers/resources/.
Activity 7 – Get advice from the Stars (post-primary)
RTÉ presenters created a series of advice videos from Irish YouTubers: Sinead Burke (MinnieMelange), Suzanne Jackson (SoSueMe), James Kavanagh (JamesKava), Clare Cullen (Clisare) and Paddy Smyth (Paddyysmyth). They all shared tips and advice on safer internet use. These videos could be used to lead a class discussion or shown during a school assembly. Watch the videos here saferinternetday.ie/irish-youtubers-support-safer-internet-day/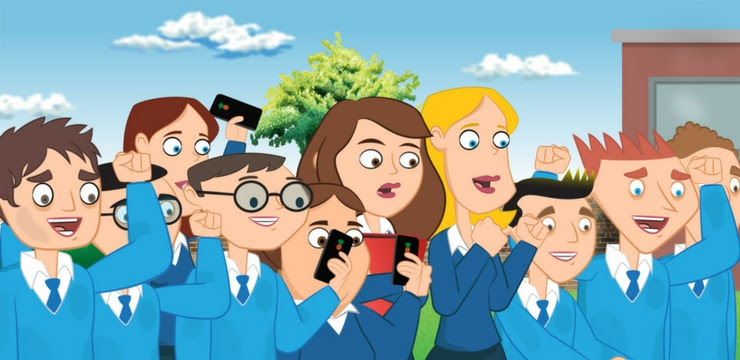 Activity 8 – When photos go viral
Play the short cartoon, The Photo, to show how photo-sharing can quickly get out of hand. Then have students use calculators or a pen and paper to complete the Going Viral worksheet. This activity shows how, within minutes, a photo can be shared with thousands of people online. The Photo video is available to view here https://vimeo.com/109564466. The MySelfie handbook (containing the Going Viral worksheet) is available FREE to order or download at www.webwise.ie/teachers/resources/.
---
Step 3 Parents get involved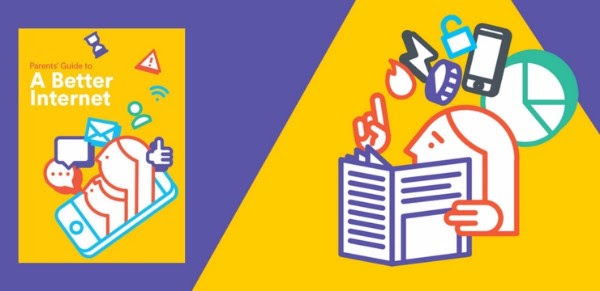 Webwise provide supports to help parents talk with confidence to their children about the benefits and risks of the online environment, including Parent's Guide to A Better Internet available FREE to order or download at  www.webwise.ie/parents/.
---
Step 4 Order your FREE teacher and parents resources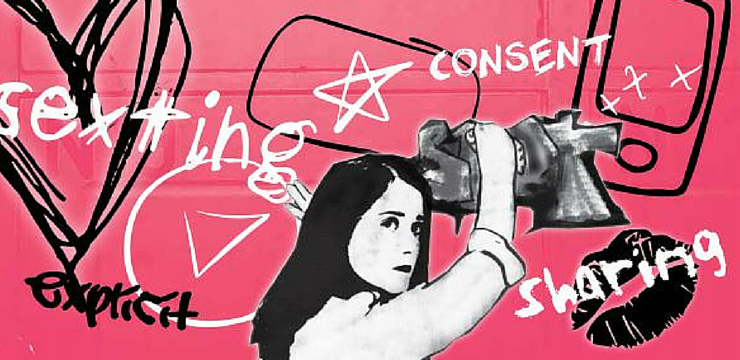 Step 4 Order your FREE teacher and parents resources
Webwise develops primary and post-primary handbooks which contain lesson plans, worksheets and animated videos that promote safe online communication and raise awareness of internet safety concerns. Primary based resources include MySelfie, a guide to cyberbullying and Webwise Primary Teachers' Handbook, an introduction to internet safety. Post-Primary resources include Lockers which deals with the issue of sexting, Be In CTRL focuses on online sexual coercion and extortion also known as 'sextortion' or 'webcam blackmail' and the #Up2Us kit includes activities to help schools tackle cyberbullying. These resources are all FREE to order or download atwww.webwise.ie/teachers/resources/.
---
Step 5 Start a Conversation with our Internet Safety Videos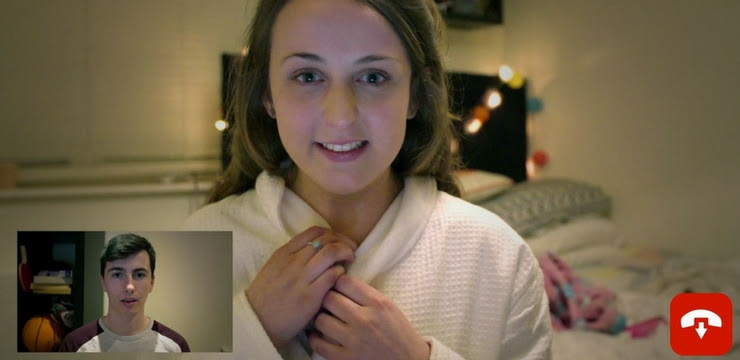 Webwise has created a number of videos that cover a variety of internet safety topics. Videos can be viewed here www.watchyourspace.ie/video-resources/. These are a good starter for conversations on safe online communication and practices.
---
Step 6 Order your FREE SID Wristbands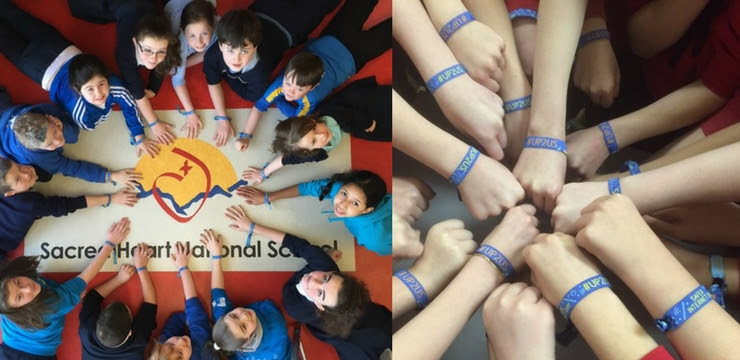 Go to www.saferinternetday.ie/schools/share-your-plans/ to share your plans for Safer Internet Day and receive your FREE Safer Internet Day wristbands and to get featured on our event map.Please note for Safer Internet Day orders must be submitted by January 31st 2018. 
---
Step 7 Share your SID celebrations #UP2US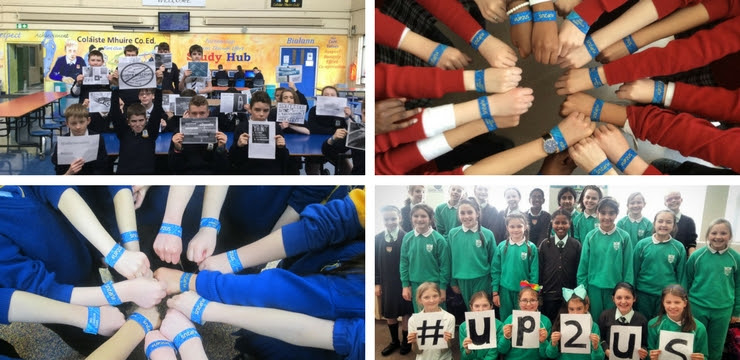 Show your support for Safer Internet Day by taking a picture showing how you will celebrate SID 2018. Share your Safer Internet Day photos using #Up2Us on Facebook, Twitter or Instagram. Webwise will also be running a competition for Safer Internet Day, stay tuned to our website and social media channels for more details!
For more ideas and information visit: saferinternetday.ie or watchyourspace.ie